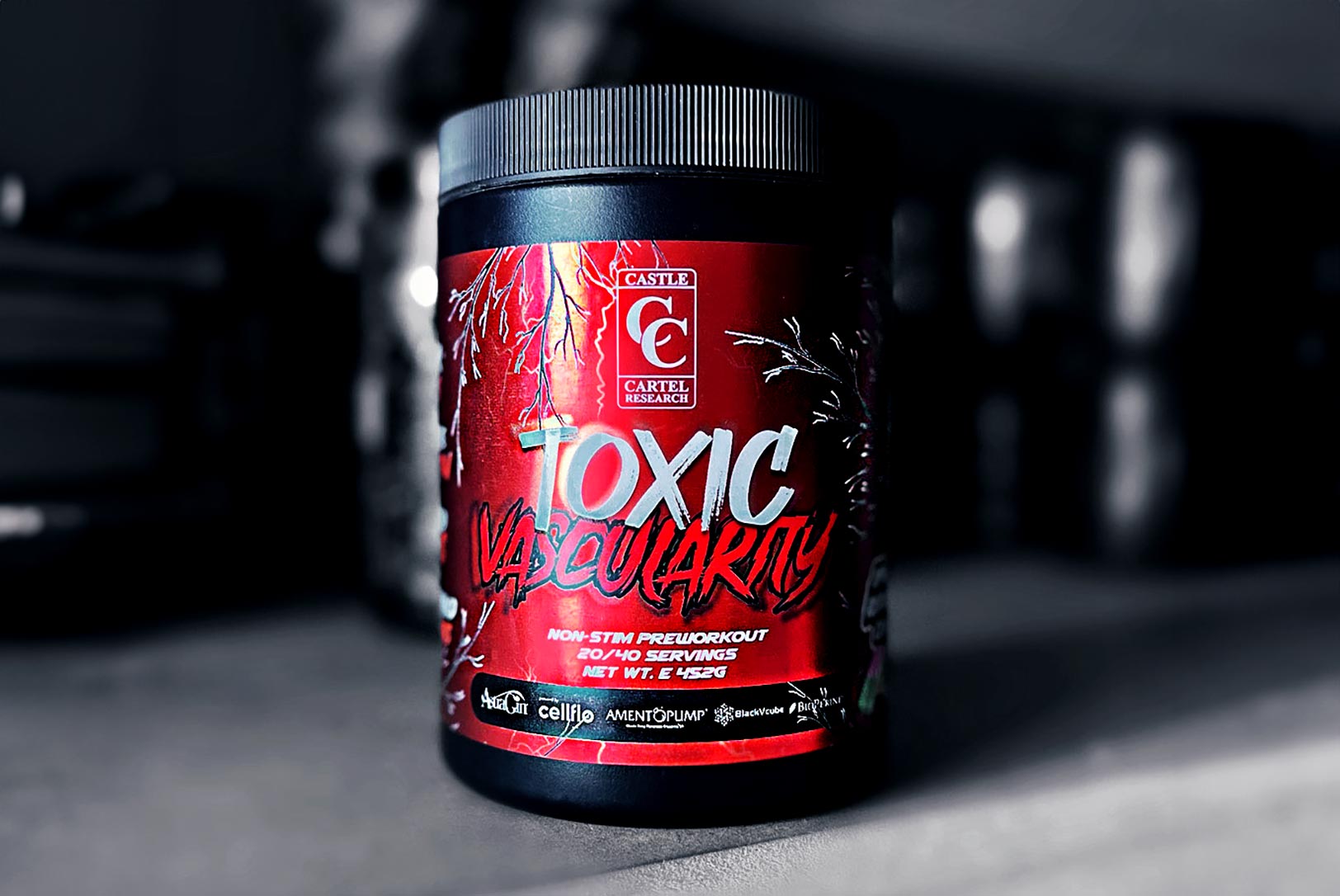 Castle Cartel hasn't been around all that long, but in its short term in the supplement industry, it has introduced some relatively intriguing and packed-out products, including its stimulant-free pre-workout, Toxic Vascularity. As the name of the supplement implies, it is built to enhance muscle pumps, but additionally, it has ingredients to improve hydration and performance, as well as support muscle building, thanks to the inclusion of turkesterone.
It wasn't long ago that Castle Cartel, internationally available in the UK, Europe, and Australia, launched Toxic Vascularity, although despite it still being a rather young product, the brand has decided it's already early enough to update its formula. The growing supplement company has taken the covers off of its revamped Toxic Vascularity, which has several notable changes but maintains the focus on increasing and enhancing muscle pumps.
We've got the facts panel for Castle Cartel's renewed Toxic Vascularity pre-workout in the image above, and there are indeed many differences. Firstly every component from the original version has been carried over to the sequel, with the exception of turkesterone, GlycerSize glycerol, and Cocomineral branded coconut water. Those three have been completely dropped, while everything else has been carried over at the same amount or an impressively higher dose.
For the performance portion of Castle Cartel's second iteration of Toxic Vascularity, the beta-alanine has been bumped way up from 3.5g to 5g, and the premium multi-benefit BlackVcube black ginger has been added at an effective 300mg. Pump-powering citrulline malate has been swapped for pure citrulline at a strong 8g, there is 20% more AmentoPump, twice the huperzine for even better focus, and BioPerine in now in the mix to further enhance absorption and elevate efficacy.
As mentioned, Castle Cartel has made many changes to its stimulant-free pre-workout Toxic Vascularity, raising the dosages of several pump-supporting components, and lifting the performance side a bit, with everything all pointing towards a better supplement in every area. The brand is launching the second coming of Toxic Vascularity this week, so be sure to keep an eye on retailers and Castle Cartel's website, where tubs are £44.95 (57.24 USD).