Game Day Overtime is the latest entry in MAN Sports' long-running family of stimulant-backed, balanced, and reputable Game Day-named pre-workouts, and it is hitting the market shortly. The brand has pumped out many highly-rated competitors for the saturated category over the years, maintaining the reputation of the supplement throughout, and it's continuing it once again here with the packed-out Game Day Overtime.
MAN Sports has had no trouble evolving with the category since Game Day first hit the scene, and that is more than evident in Game Day Overtime. This version of the supplement might be the most loaded iteration we've seen from the brand, featuring a huge 29g serving size, and the majority of that is actives, with all of the key ingredients and dosages combining for a total of 26g.
Driving strength and performance, MAN Sports has filled Game Day Overtime with 3.2g of beta-alanine and a full 5g dose of tried and true creatine monohydrate. Next up, you have all of the pump-enhancing components of the pre-workout, which is one of the more impressive areas of the product. Going alongside the beta-alanine and creatine is a huge 9g of pure citrulline, and that isn't citrulline malate, straight citrulline, then 1.5g of betaine, and 2g of NO3-T nitrates, evenly split between arginine and betaine nitrate.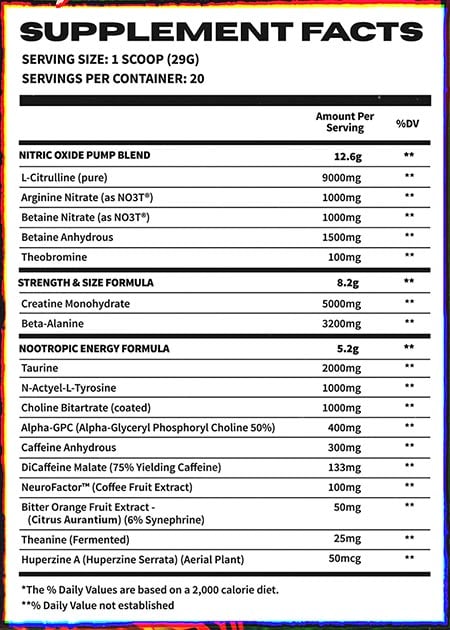 The rest of the formula in Game Day Overtime is for the energy and focus experience, and this is something MAN Sports has proven time and time again it can deliver on incredibly effectively. Rounding out the product is a gram each of choline bitartrate and n-acetyl-l-tyrosine, 400mg of alpha-GPC, 100mg of premium and proven NeuroFactor, 50mg of synephrine, huperzine a, and a high-powered 400mg of caffeine from two sources.
MAN Sports is planning to launch the next evolution of its Game Day pre-workout in exactly one week from today, so on Thursday of next week. Like all of the latest drops from the long-running, reputable brand, Game Day Overtime will be available first directly through its online store at mansports.com. The loaded energy, focus, pump, and performance-powering product will be available in Blue Lemonade Rush and Tiger's Blood flavors with 20 maximum servings a tub.