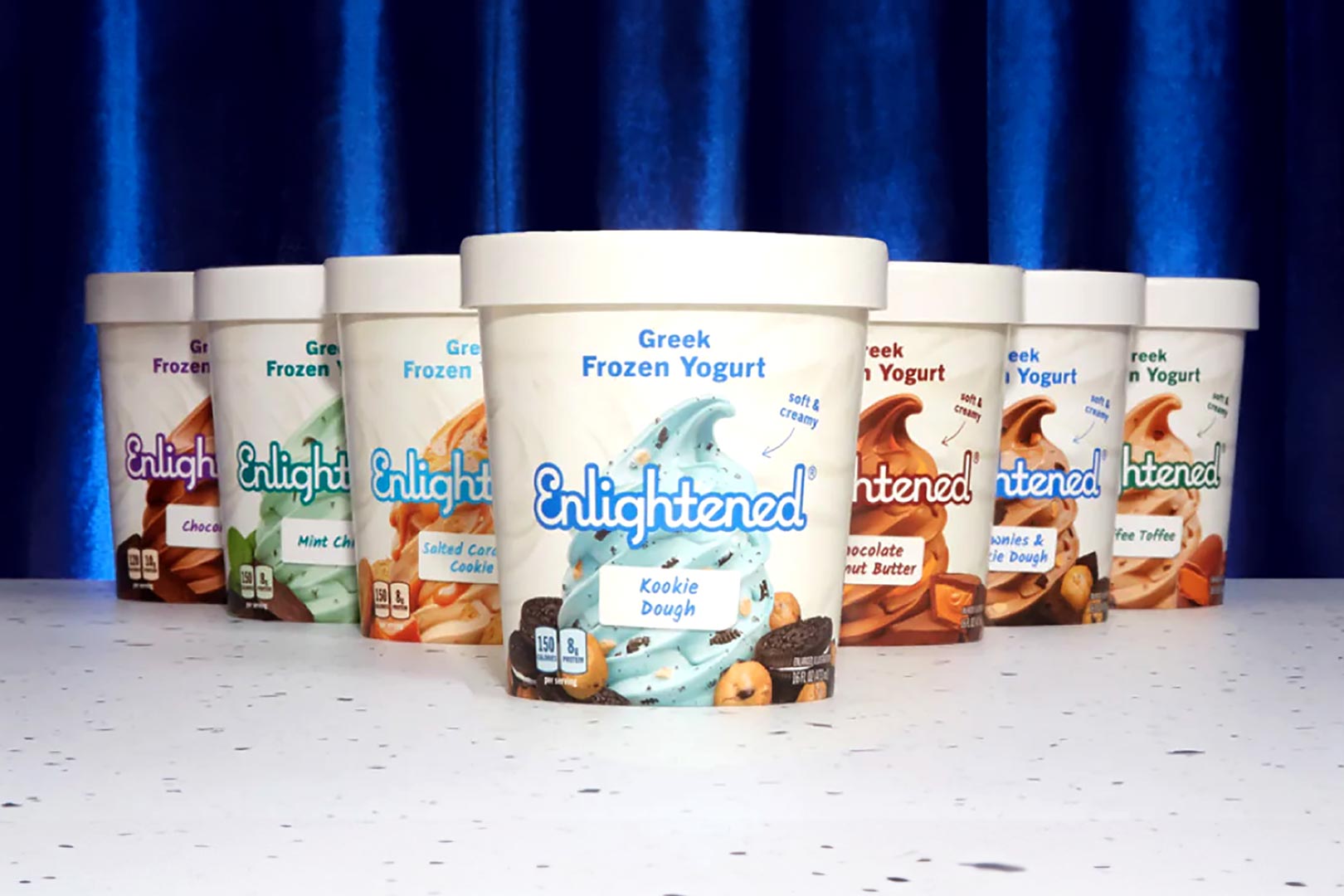 The frozen functional food specialist Enlightened released a different sort of cold treat a few months ago in Greek frozen bars. They are Greek frozen yogurt blocks on a stick sprinkled with chocolate or cookie pieces, then covered in a flavored hard outer shell. The product has a low but present 5g of protein in either of its two flavors, Mint & Cookies and Caramel Brownie, with 7 to 8g of net carbohydrates and a guilt-free 80 calories.
Enlightened has created a sort of spin-off of those Greek yogurt bars with pints of Greek frozen yogurt. It's basically a bulk container of the sweet and smooth cold dessert, and coming from the brand it does, there are obviously a whole host of mouthwatering tastes to choose from. There are straightforward creations like Chocolate and Chocolate Peanut Butter, with the other five options on the menu being significantly more complicated.
There is the blue-colored Kookie Dough Greek frozen yogurt pint filled with chunks of cookie dough and chocolate chips, Salted Caramel Cookie, Brownies & Cookie Dough with brownie pieces, Coffee Toffee, and Mint Chip with a scattering of chocolate chips. The latest from Enlightened is a nice extension to those original Greek yogurt bars for those that prefer just the frozen yogurt by itself and the potential to throw down an entire 16oz pot.
Enlightened has launched its Greek yogurt pints in all seven of its smooth, creamy, and delicious-sounding flavors in its many retail partners to go alongside its other similarly sized frozen treats, including its protein-packed light ice cream and its high-protein and high-fat keto-friendly ice cream.