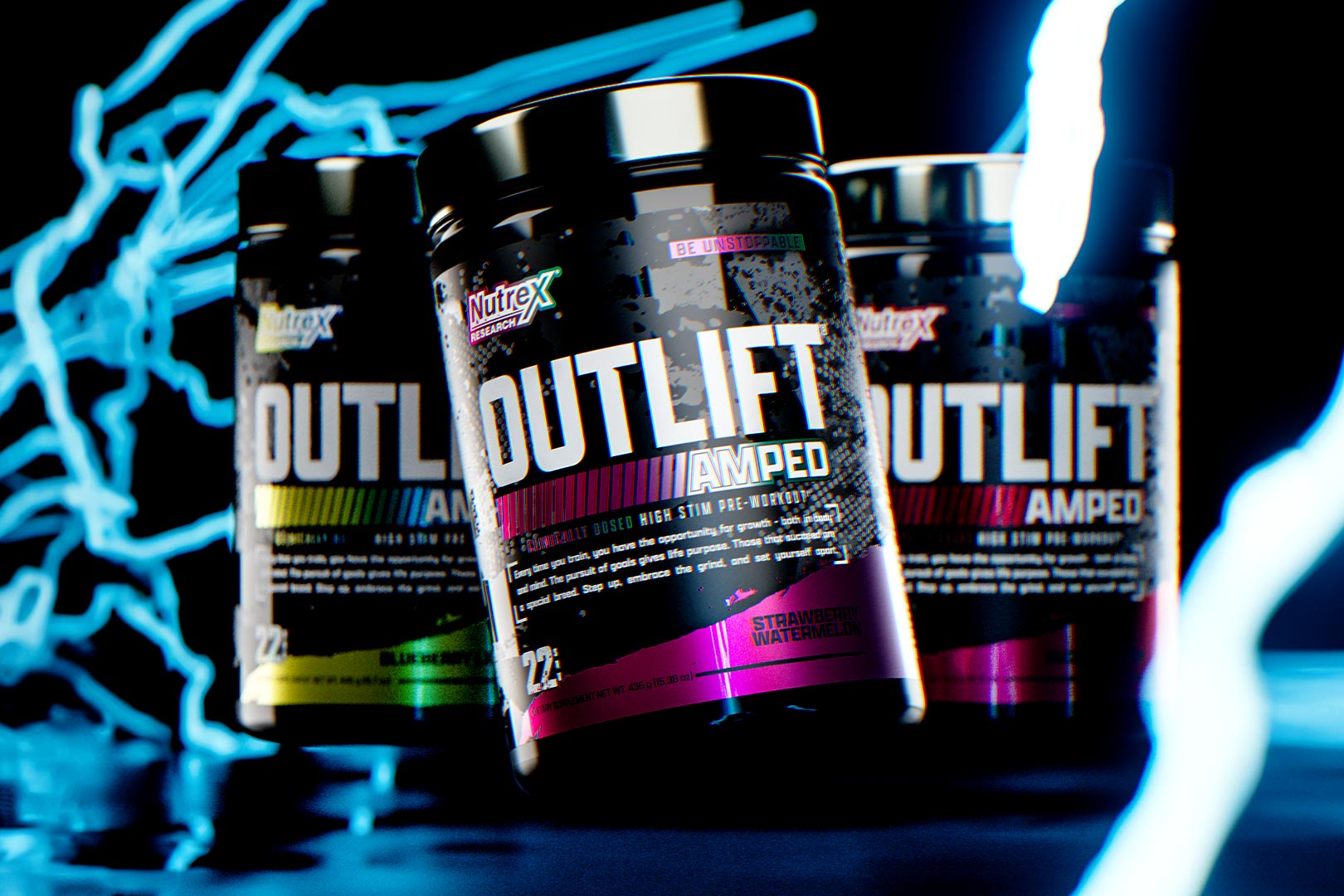 Nutrex is not stopping at just the hybrid pre-workout Outlift Burn, which launched last week, which is the first supplement to use the fat-burning electrolytes, MetaboLyte. Quickly following that product, this coming Wednesday is the return of the legacy sports nutrition brand's pre-workout spin-off Outlift Amped. The original supplement surfaced several years ago in 2016 under Nutrex's UltraFit Series, and it was considered a more intense, stimulant-powered alternative to Outlift.
Return of Outlift Amped
The 2023 edition of Outlift Amped continues that high-stimulant approach, or at least more energy and focus-fueling angle, with Nutrex packing quite a strong selection of ingredients into this one. Again, the purpose of Outlift Amped is to offer a pre-workout experience leaning heavier into the stimulating side of things as opposed to a comprehensive balance supporting pumps and performance as much as energy and focus.
High-powered formula
Nutrex has still included a reliable set of ingredients supporting pump and performance in Outlift Amped, with a solid 6g of pure citrulline, 2.5g of betaine, marine-sourced Aquamin electrolytes, and 3.2g of the ever-present beta-alanine. The rest of the formula is responsible for the intense energy and enhanced focus in the pre-workout, and the brand has thrown in plenty of components to ensure that part is delivered on.
Taking care of the improved focus and cognition in Nutrex's returning Outlift Amped is a sizeable 3g of tyrosine, 600mg of alpha-GPC, and 100mg of the premium and proven CognatiQ, previously Neurofactor. Then driving home the energy portion of the experience is 125mg of TeaCrine, 1.5mg of the potent alpha yohimbine, and it wouldn't be a high-stimulant pre-workout without caffeine at a combined 400mg from anhydrous and di-caffeine malate.
Launch details
Once again, Nutrex is launching the latest iteration of its Outlift Amped pre-workout this coming Wednesday, two days from now, through its online store over at nutrex.com. The price is expected to be around the same as the brand's other premium, fully-dosed pre-workouts, with 22 servings a bottle and three flavors on the menu in Blueberry Lemonade, Strawberry Watermelon, and one from the Hemo Rage Black days in Sucker Punch.