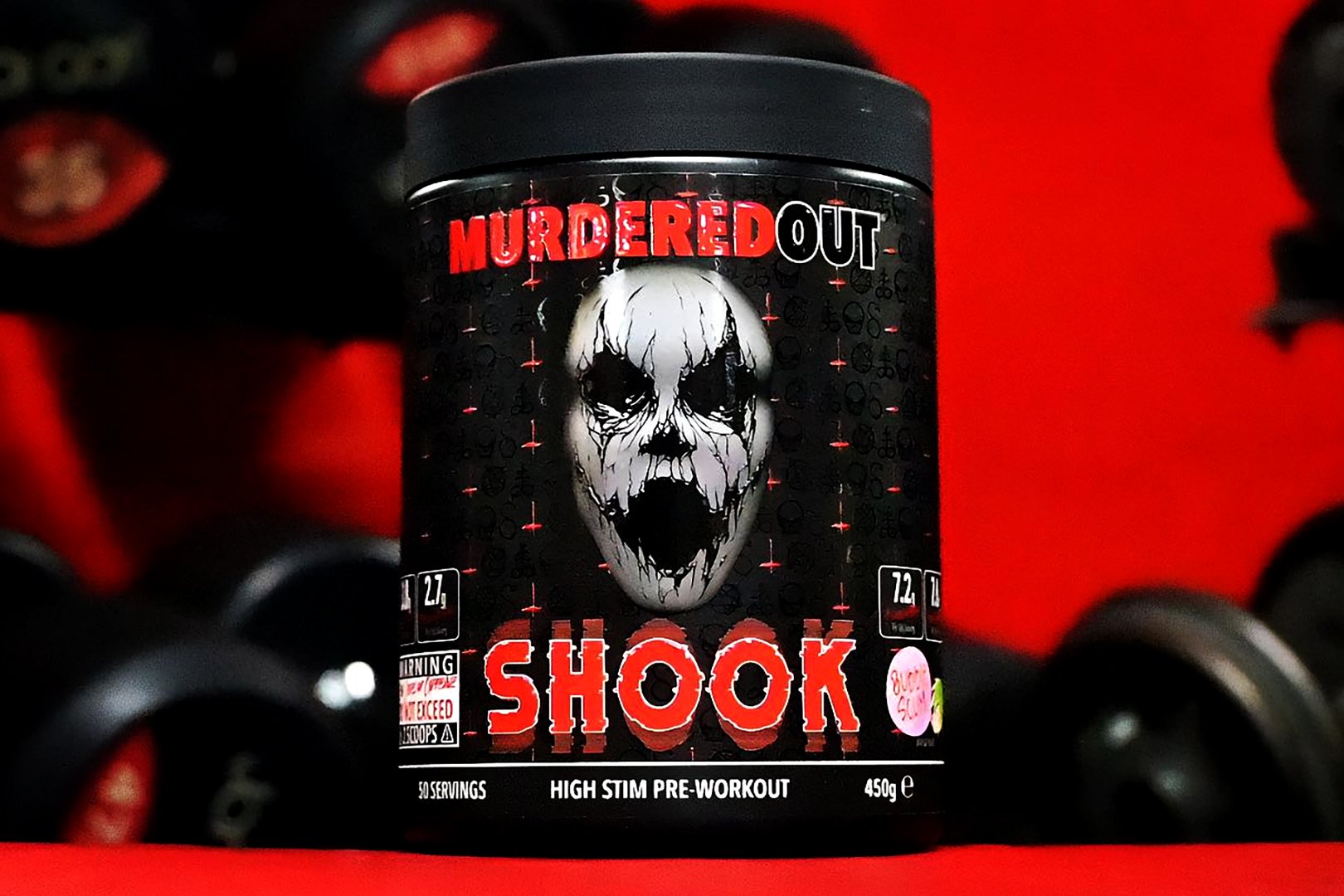 Murdered Out has built a strong selection of sports nutrition supplements in the UK over the past year, growing from its original pre-workout Insidious to additionally including standalone creatine and glutamine, and the amino cocktails Chainsaw and the more comprehensive, ScrEAAm. To start the month of September, which is about two weeks away, Murdered Out is coming out with another pre-workout, and it's not stimulant-free.
Almost every time a sports nutrition company puts together a second entry for the pre-workout category, it is a supplement without stimulants intended to be used as an alternative to a stimulant-backed pre-workout or in combination with one for a powerhouse workout. Murdered Out's upcoming pre-workout is called Shook, and it is going in the other direction with a higher stimulant approach for more intense energy and focus.
Despite the extra attention on the sensory benefits, Murdered Out's Shook still has a variety of ingredients, aiming to support more than just intense energy and enhanced focus. The supplement includes the usual 3.2g of beta-alanine for performance, 3g of betaine, and a gram of taurine. For the energy and focus portion, you have the likes of 200mg of juniper, 1.2g of acetyl-l-tyrosine, half a gram of choline, and a potently strong 400mg of caffeine.
Interestingly, the formula in Shook is very similar to Murdered Out's original pre-workout Insidious, with a few more components supporting the stimulant side and not so many for other benefits like pumps and performance. Basically, as the description suggests, the upcoming Shook is the supplement fans will want to go with if they prefer intense energy and focus, and for those after something more balanced, you go Insidious.
Once again, Murdered Out is rolling out its high-stimulant Shook pre-workout from the first day of next month with 50 regular or 25 maximum servings. The supplement is going to be available in flavors like Scumberry and Bubble Scum, and you'll be able to purchase Shook from any of the brand's regular retailers, and that is a lot of locations, as Murdered Out has built a relatively strong distribution network since launch.