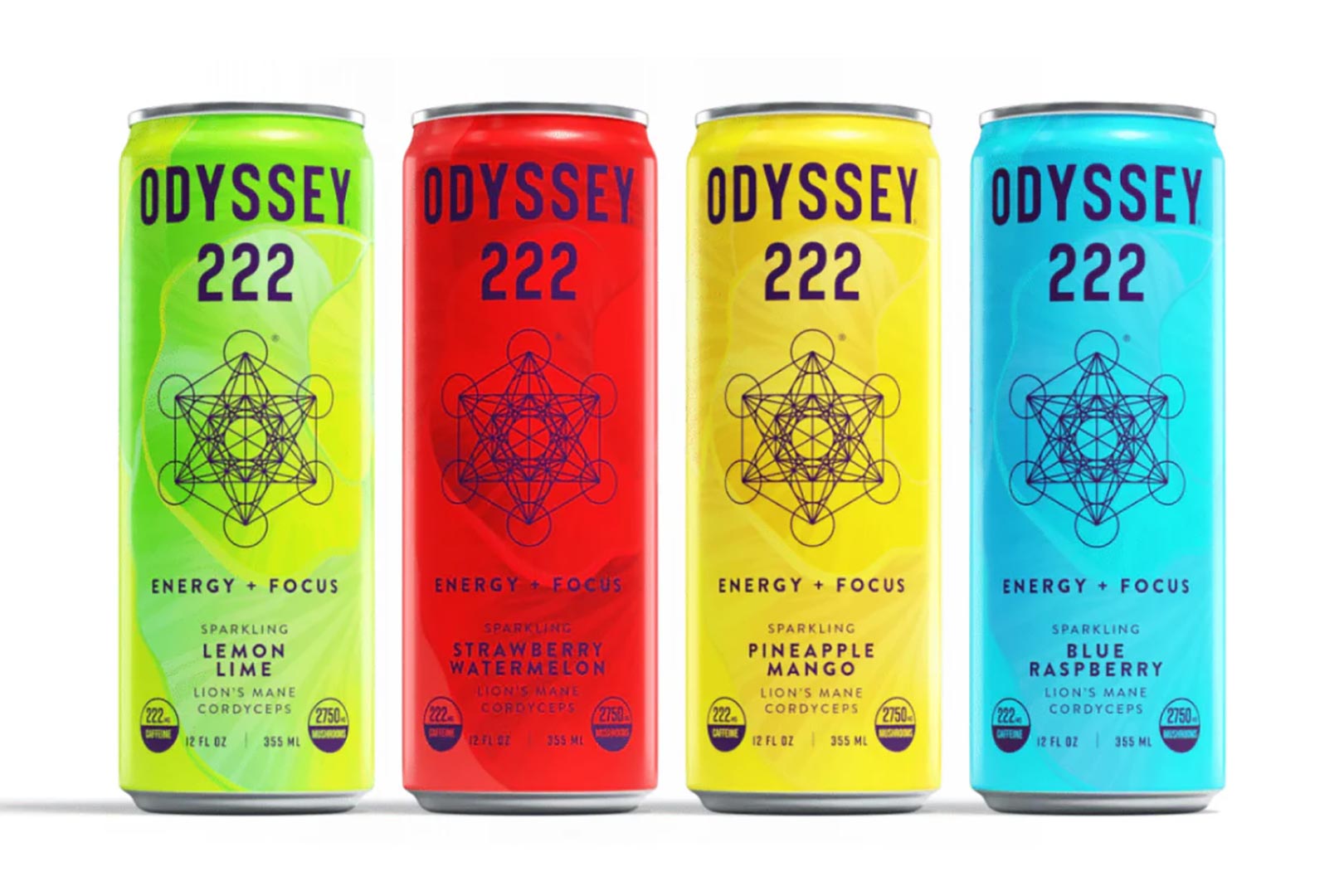 Odyssey is a rather different sort of energy drink company, as the beverage that put it on the map is not powered by traditional energizing ingredients. The signature Odyssey Elixir is infused with the functional mushroom extracts lion's mane and cordyceps at a combined dose of 2.5g a can. Those star components are alongside theanine and ginseng, and to make it a full-on energy drink, it has a relatively light 85mg of natural caffeine from green tea.
A third beverage has become available from Odyssey here in 2023, and it is very similar to the original Odyssey Elixir and even Odyssey Revive, as it too features the mushroom extracts lion's mane and cordyceps. The name of the product is Odyssey 222, and there is a reason behind that. Ginseng and theanine are also included in the brand's second energy drink, although where it sets itself apart is there is a lot more green tea-sourced caffeine at 222mg.
Odyssey 222 is essentially a stronger or elevated energy alternative to Odyssey Elixir. It has all of the same benefits, offering support for improved focus, mood, and energy, although that energy will hit a bit harder, seeing as the caffeine is just over two and a half times higher. The macros have remained nice and low for the spin-off at 20 calories, and Odyssey 222 comes with its own family of flavors in four refreshing fruity experiences with Strawberry Watermelon, Lemon Lime, Blue Raspberry, and Pineapple Mango.
You can purchase Odyssey's more caffeinated Odyssey 222 energy drink directly through its online store for the same price as Odyssey Elixir and the completely caffeine-free Odyssey Revive at $41.99 for a case of 12 cans. To make it nice and easy to try the entire list of flavors for the caffeine dose-titled energy drink spin-off, there is a variety pack that costs the same as a single flavor at $41.99, but it comes with three of each of the four flavors.