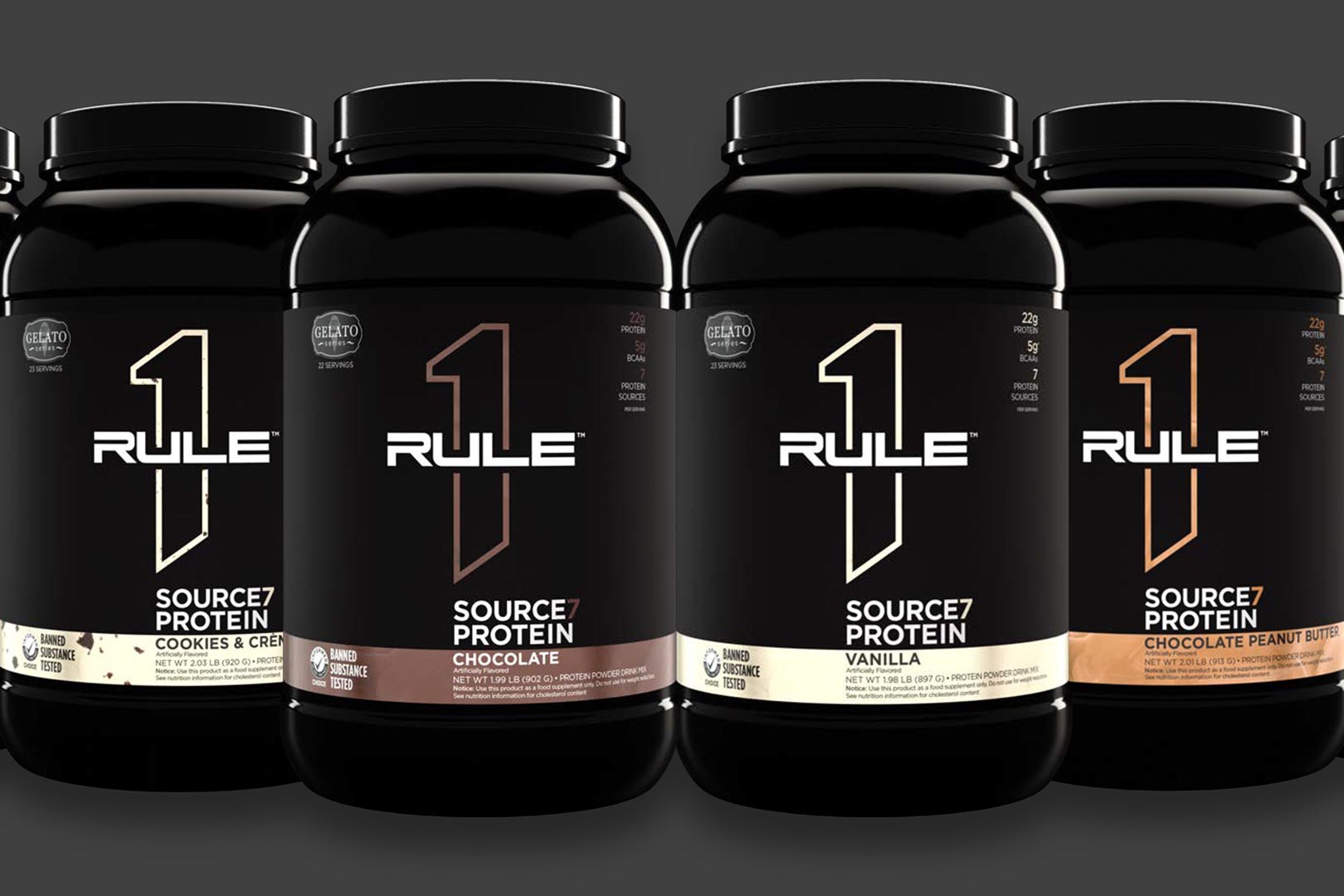 Source7 Protein is an all-new protein powder from the protein specialist Rule One Proteins. The supplement does indeed bring together a variety of seven sources of protein, as the name suggests, but the primary point of difference on this one is in the taste. The brand has designed Source7 Protein as a more flavorful, indulgent protein shake that's a little higher in carbohydrates and calories, although it makes up for all of that in taste.
The seven different sources of protein in Rule One Proteins' Source7 Protein are whey hydrolysate, isolate and concentrate, premium native whey isolate, milk isolate, micellar casein, and plant-based pea protein to provide a reasonably strong 22g of protein a serving. That goes alongside 9g of carbohydrates, a little more than your typical 3 to 5g for a protein powder; about half of those carbs are sugar, around 4g of fat, and 160 calories.
The nutrition profile of Source7 Protein isn't on part with some of Rule One Proteins' other protein powders like R1 Protein or R1 Whey Blend, but again, the main feature of this one is that indulgent protein shake experience and there are plenty of flavors for you to enjoy. The brand has debuted the supplement in six tastes with Pistachio, Salted Caramel, Cookies & Creme, Chocolate Peanut Butter, and the classics, Chocolate and Vanilla.
The cost of Source7 Protein through Rule One Proteins' online store is very reasonable, as you do get less protein than the usual 25g per serving and the serving sizes are larger, so you get fewer servings per tub; however, it's priced accordingly. The brand is selling its latest protein powder at $23.99 for a 2lb tub of 22 to 23 servings, or go up to the two and a half times larger 5lber with 55 to 58 servings, also competitively priced at $50.99.