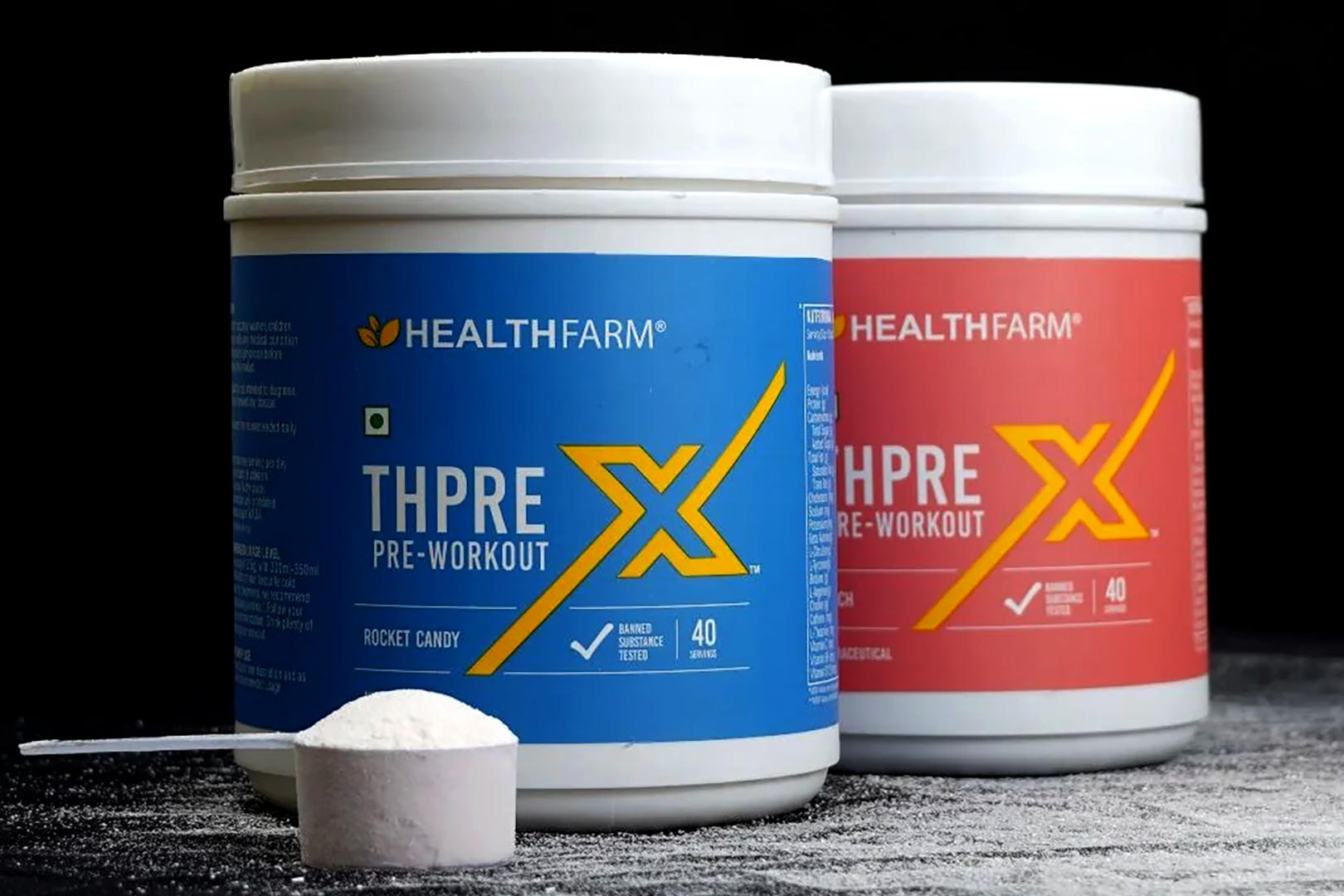 Earlier this year, the rising Raw Nutrition from Dom Lacovone, Matt Jansen, and Chris Bumstead launched in India through the retailer and distributor HealthFarm Nutrition with an extensive eight separate supplements. That included the popular CBUM Series pre-workout Thavage, featuring a slightly altered formula, standalone creatine, the pump pre-workout Raw Pump, and the high-calorie Raw Mass Gainer.
All of those supplements from Raw Nutrition are still available from HealthFarm Nutrition, although an interesting development has taken place that relates or connects back around to the brand. Under its own banner, HealthFarm has released a pre-workout named ThPre or ThPreX, which has similar bright branding to Raw Nutrition's Thavage pre-workout, but more importantly, ThPre has the exact same ingredients and dosages.
We've got the facts panel of both supplements in the image above, HealthFarm Nutrition's ThPre on the left, and on the right, the version of Raw Nutrition's Thavage distributed by HealthFarm. As you can see, they are indeed identical, ingredient for ingredient, dose for dose, from the 4g of beta-alanine and 3g of citrulline to the smaller dosed components like choline and the classic caffeine at 200mg and 150mg, respectively.
HealthFarm Nutrition has also launched ThPre in the same flavors or at least identically themed in Rocket Candy, Blackberry Lemonade, and Peach. The pre-workout is available from the retailer and distributor's online store at healthfarmnutrition.com, and it is quite a bit cheaper. The regular price of ThPre is ₹2,099 versus Thavage's ₹2,499; however, both are currently discounted to ₹1,259 (15.15 USD) and ₹1,699 (20.44 USD).