AK-47 Labs is one of the more cost-effective sports nutrition brands in Europe, well-managed and distributed by the European giant Prometeus, hence why you can find it throughout the continent. AK-47 covers all sorts of categories, including the majority of mainstream ones like pre-workout, weight loss, testosterone booster, and amino, with this month seeing the launch of another competitor in that highly saturated category of pre-workouts.
Going alongside AK-47 Labs' Braindead, First Contact, AK-47 Pump, hybrid supplement Shred, Schizo, and original, self-titled AK-47 Pre-Workout is its most cost-effective pre-workout to date named Hardstyle. Through the Danish retailer Fitnessnord, Hardstyle will cost you just 139 DKK, which, when converted over to US dollars, you're almost under that $20 mark at $20.43, and that is for a tub of the usual 30 servings in two flavors.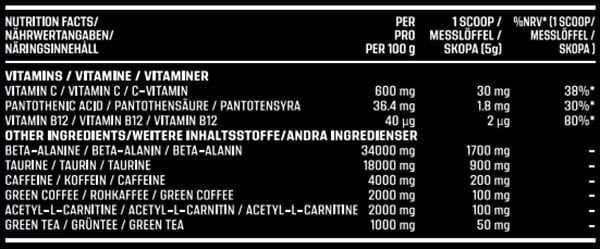 Once you hear the formula behind AK-47 Labs Hardstyle, you'll understand why it's around $20 and its most cost-effective pre-workout offering on the market. In a single serving, you get 1.7g of beta-alanine for performance, B vitamins, 900mg of taurine, 100mg each of green coffee bean and acetyl-l-carnitine, 50mg of green tea, and 200mg of caffeine. As you'd expect at that price, it's not supremely advanced, with enough room actually to double up and throw down two servings at 400mg of caffeine.