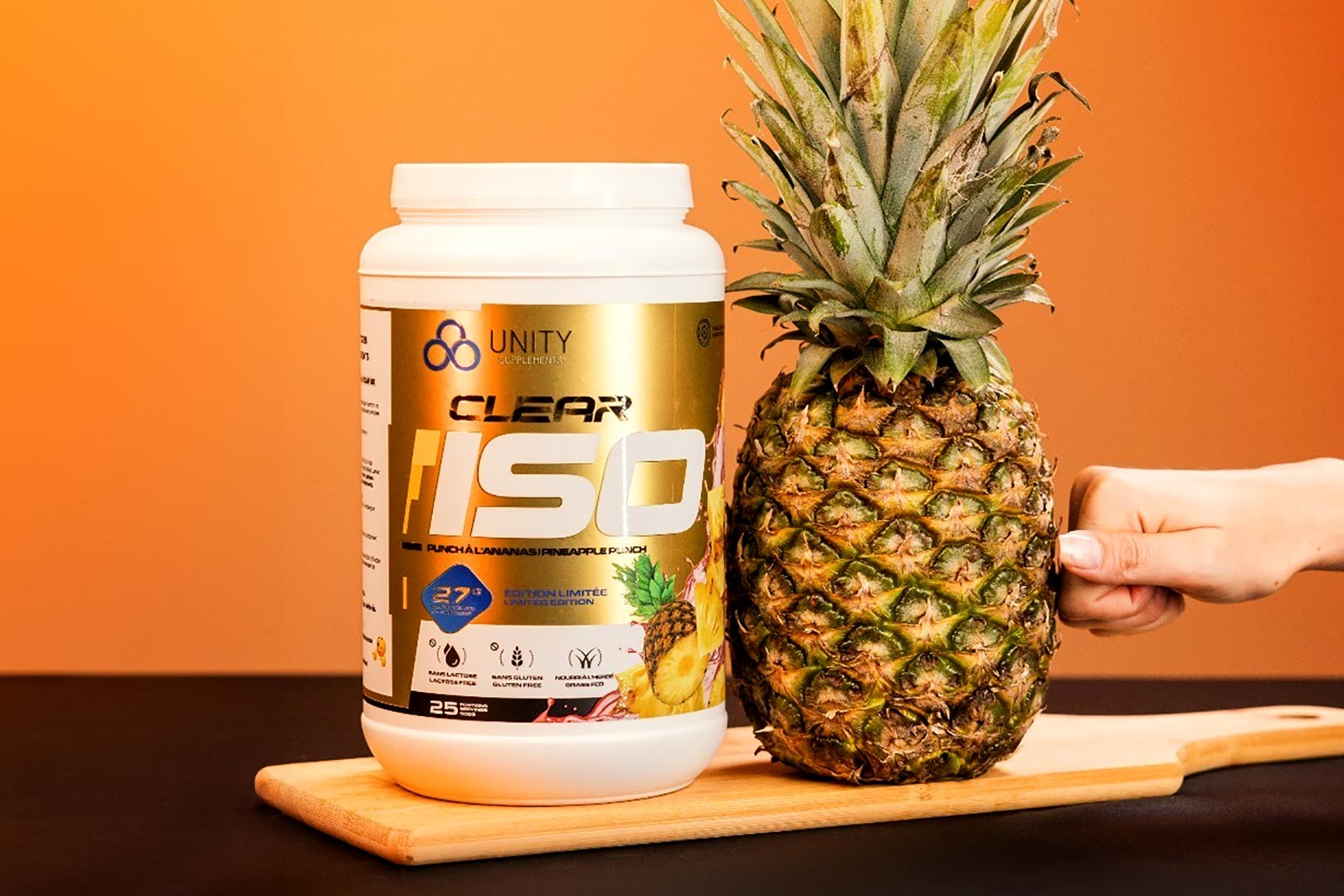 Unity Supplements is a young and growing sports nutrition company in Canada that, despite the trend of clear and refreshing protein powders really coming on these past 12 months, has been in that game for about two years. The brand's only product on the market is that premium clear protein competitor named Clear ISO, and it comes in a great selection of flavors with a formula that has all of the core features of clear protein.
Clear ISO from Unity Supplements provides a lean 27g of protein a serving, all from grass-fed whey, with no sugar, carbohydrates, or fat, resulting in an extremely lean 108 calories, all of that coming from the protein. The Canadian company has six flavors to choose from, all of them sticking to the clear protein theme of refreshing and fruit-based with Black Cherries, Orange, Watermelon, Raspberry Lemonade, Orange Mango, and the most recent addition, the special edition Pineapple Punch.
You can grab Unity Supplements Clear ISO in stores in Canada and directly through its website at $59.99 (43.85 USD) for a tub of 25 servings, or 27 servings if you want to shave a bit off the top to get the more traditional 25g of protein instead of 27g. The brand makes it easy to sample its lineup, too, by selling tubs and single-serving sachets at $4.49 (3.28 USD) a piece, or try the lot in variety packs of six and 20 sample sachets.
Unity Supplements does indeed only have Clear ISO on the market at the moment, but word is that won't be the case for much longer. The Canadian brand has been gradually adding more flavors to the menu of its protein powder since its inception, but next month, it is dropping something that isn't that. More details on that will be here soon, which will certainly be exciting, as is any expansion when a brand steps outside of its familiar area.