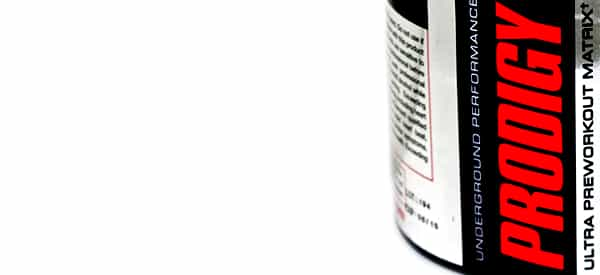 Premium Nutraceuticals aren't exactly a new supplement company, but they have recently broken out into the industry with their pre-workout product leading the charge. The energizing formula is titled Prodigy and has managed to find it's way into almost every major retailer throughout America and many other countries. To find out what the big deal was we decided to get our hands on the pre-workout Prodigy and put it to the test. Without saying too much before heading into detail about the supplement. It is definitely one of the best formula's we've tried since the launch of the big August performers Pump Igniter and Scivation's Psycho.
First off PNI easily covers all the major bases with Prodigy. The product delivers on energy, pump, focus, and most of all intensity, resulting in an all around performance that immediately puts it up their with the best. Of course we aren't just going to leave it there as most of the supplement's effects are on a level above the usual experience.
In the area of energy and pump, Prodigy comes in with an average amount of power that does manage to add to it's overall performance. For us the process in which the product's abilities kicked in were a little more interesting as they were quite different from your usual pre-workout. Instead of feeling the energy creep in after about 15 or 20 minutes. It was the supplement's focus that put us in the perfect place to workout. The energy did come in a bit later but it wasn't a major player in the experience of the product, with the same being said for the pump. At no point were the effects weak or unnoticeable, but they were definitely overshadowed by the other two departments Prodigy showed it's true strength.
As mentioned Premium's pre-workout delivers in all the major areas, and while it did do alright with energy and pump. The supplement really brings home it's performance with it's unforgettable focus and incredible intensity. Like we said the focus is the first thing to kick in, and it does not fade away until the session is done. Even then you will find yourself having no trouble keeping your mind focused on tasks complex or simple, for hours after training. It's not quite tunnel vision like we saw with ANS Ritual, but sort of a "get it done" mindset that acts as more of an attitude adjustment. There is a pinch of aggression in there too, which actually helps amplify the unique focus effect of the dominating Prodigy.
To complete our review of the pre-workout formula we have one more section to cover and that is intensity. We have seen this ability pushed to it's limits before, and that is exactly the level PNI managed to squeeze in to their energizer. Prodigy's intensity is easily up there with the best of the best, and there is one thing that really helps put it there. On top of the non-stop amplification that sees your muscles pushed to their limits, and go set after set like each exercise doesn't hurt them in the slightest. The product's intensity interacts so well with it's focus and additional aggression, that you instantly become this man on a mission. Who with the help of the energy and pump, can complete your workout at a level you will most definitely become addicted to.
All up Premium Nutraceuticals did a great job with Prodigy. The supplement is not only a successful pre-workout, but it delivers an experience you simply will not get from any other formula. It has it's high points which we can only hope we covered well enough. And it has it's low points, which are in fact areas where it does the job, just not as well as it's standout features. Basically if you're looking for something different you aren't going to have any problems with PNI Prodigy. It ropes in a number of effects in it's own special sequence that result in a performance similar to the likes of GAT Nitraflex, Neon Sport's Volt, and Top Secret's Pump Igniter. Pushing Prodigy into the realms of the recommended and highly respected.