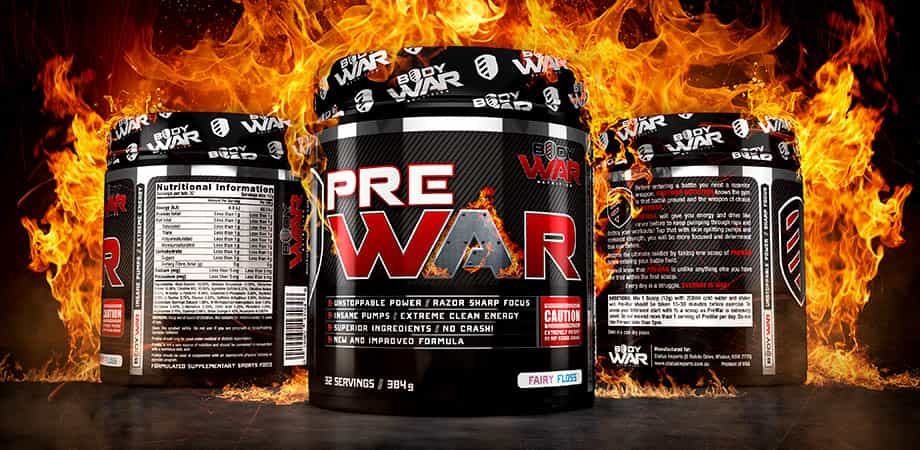 Body War has followed through on its promise today of putting together an all new version of its pre-workout PreWar without the controversial stimulant AMP citrate. Unlike a lot reformulations however the Australian brand hasn't just removed AMP, it's actually dropped another stimulant and replaced the pair with a number of other ingredients. Fortunately to get everyone informed in time for when PreWar 2.0 arrives, Body War has passed on the upcoming product's facts panel giving us the ability to confirm everything that's changed.
Firstly, as well as removing AMP citrate Body War has also taken out dendrobium. Everything else has basically been carried over to the reformulated PreWar and been joined by six entirely new ingredients. Filling the pretty big shoes of AMP and dendrobium are betaine anhydrous, norvaline, higenamine, Hyperzine A, n-methylpentyl-iminoglutaric acid, and a third type of creatine with creatine HCl. Unfortunately when it comes to doses we can't confirm if anything's gone up or down, as the way the pre-workout and its predecessor are labelled everything's essentially thrown into one big proprietary blend.
As well as making a lot of changes to the contents of PreWar, Body War has also changed the supplement's menu. The brand has in fact replaced PreWar's previous list of Pina Colada, Mango Punch, Cola Blast and Coconut Lychee, with three all new options. Making up the reformulated product's menu is at least one traditional taste in Green Apple, and two much more uncommon flavors with Blue Hawaiian and Fairy Floss. At the moment Body War's updated PreWar is just listed as coming soon, although is expected to be hitting shelves early to late next month.
Body War reformulated PreWar