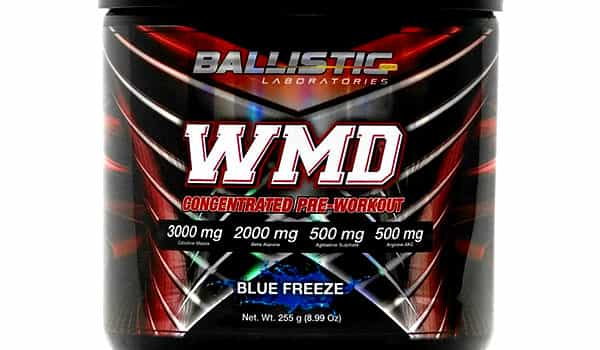 Two days ago Ballistic Labs unveiled an all new supplement, confirming the brand's re-entry into a category it's already competing in. The name of the product is Ballistic WMD, a pre-workout designed to be a little more stimulating than the brand's current pre-workout Trigger. Today we actually have all of the supplement's details including the surprising fact that WMD isn't replacing Trigger, it's simply going to be a more energizing alternative.
Since Ballistic WMD is somewhat of a spin-off of Trigger, it's no surprise that the new pre-workout has quite a bit in common with the brand's current competitor. Basically of WMD's 10 ingredients 8 are from Trigger, with a number of those also being dosed the same. The features WMD shares with Trigger are vitamin C, beta-alanine, citrulline malate (2:1), agmatine, arginine AKG, taurine, caffeine and niacin. As for the two ingredients that separate the products, Ballistic has packed WMD with 50mg of bitter orange and 100mg of theanine.
As mentioned and as you can see Ballistic WMD has a lot of contents in common with Trigger, suggesting fans of the latter will likely enjoy the brand's all new pre-workout just as much. Moving on to WMD's 30 serving menu, when the product arrives it will be available in a total of three flavors with Grape, Peach Mango and Blue Freeze.
For those after a more in-depth look at WMD's formula we have added its official label down below, where you'll also notice that like Trigger the supplement is 100% transparent. Ballistic has yet to launch its second pre-workout, however it is saying fans can expect to see WMD on shelves very soon as it will be released within the next couple of weeks.
Ballistic WMD