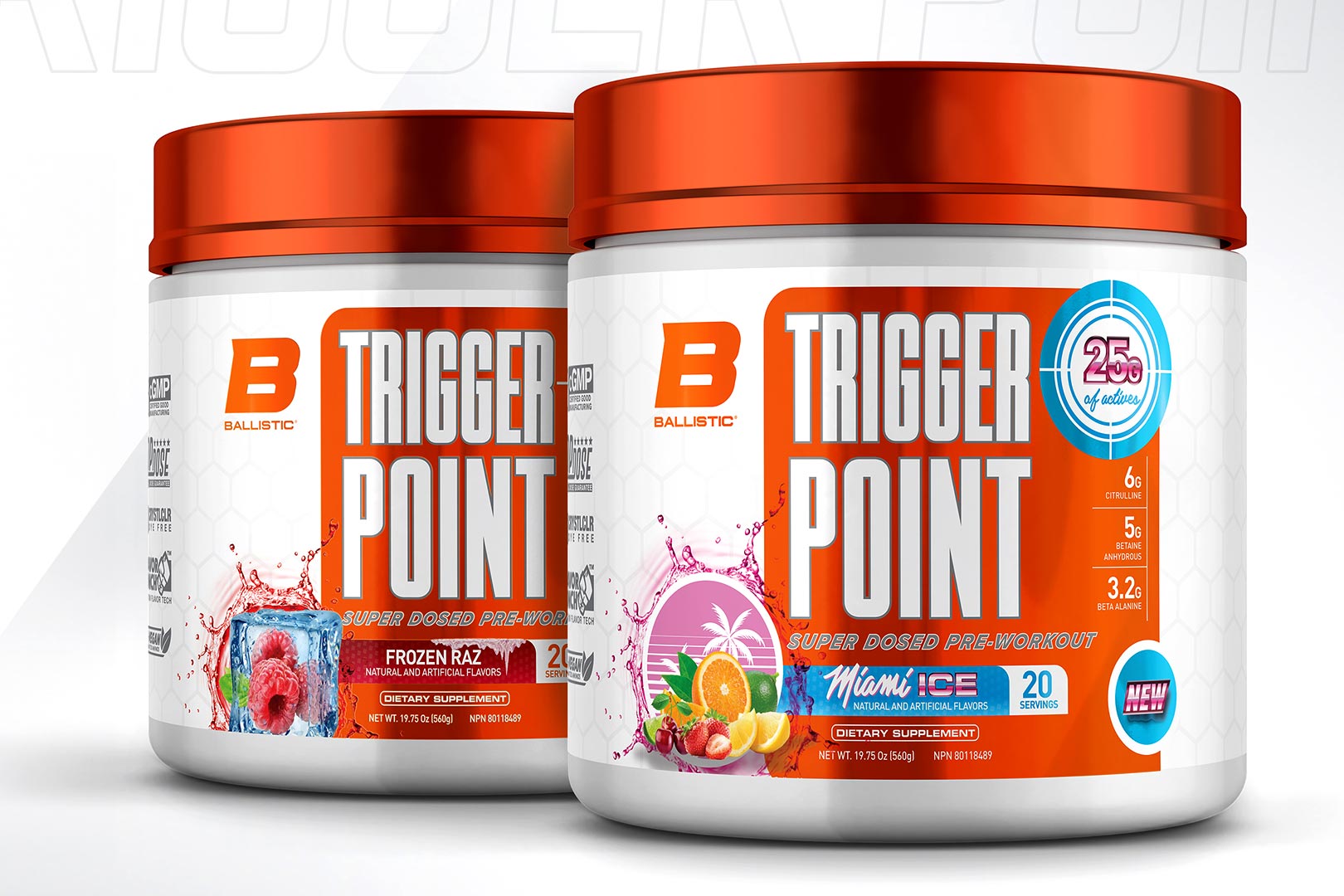 Ballistic has revealed its all-new stimulant-powered pre-workout Trigger Point in preparation for its official launch on the first day of November, which is Wednesday of next week. The Canadian brand is known for putting together some reliably effective supplements, and its latest innovation is more proof of that. The product prides itself on having a hefty 25g of active ingredients, so much so it calls it out on the front of its bottle.
The Trigger Point pre-workout from Ballistic definitely leans into the realm of packed-out, with everything at respectable dosages and some going even beyond that for comprehensive support for energy, mental focus, muscle pumps, and performance. The brand has loaded a rather even spread into the supplement, with an equal amount of ingredients supporting each of the core pre-workout benefits, again, for a comprehensive and balanced experience.
Ballistic Trigger Point drives better muscle pumps with the help of a 6g citrulline blend, 50% pure citrulline and 50% citrulline malate at a 2:1 ratio, a gram of agmatine sulfate, and 2g of the muscle filling glycerol. For strength, power, and performance, there is our favorite amount of betaine at 5g, the classic 3.2g of beta-alanine, 2g of taurine, and a full daily dose of creatine HCl at 1.5g.
The remaining ingredients in Trigger Point take care of the sensory benefits in the Ballistic pre-workout, and that is intense energy and enhanced mental focus. That final section of the facts panel rounds out with 100mg of smoothening theanine, half a gram each of DMAE, alpha-GPC, and choline bitartrate, a reliable 1.5g of the common nootropic component tyrosine, and everyone's favorite stimulant, caffeine, at a potent 400mg.
As mentioned, Ballistic Trigger Point is loaded and only furthers the brand's strong reputation. It is even more impressive due to it being built specifically for Canada, where competitors don't have as variety of ingredients as the US, especially in pre-workout. Ballistic is indeed launching Trigger Point on Wednesday of next week in its home country, with tubs packing 20 maximum servings in two flavors: Frozen Raz and Miami Ice.