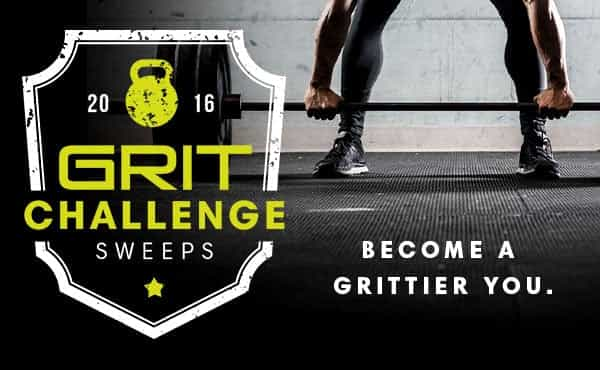 The Bodybuilding.com exclusive brand True Grit has launched a giveaway of sorts, which is actually quite a bit different from the usual like and share social contest. The promotion is called the 2016 Grit Challenge Sweeps, where there are massive prizes up for grabs but also rather large tasks you need to complete. The way it works is you visit the contest website, press the "Get Gritty" button, and you will then be given a challenge you need to complete.
Some of the challenges include "Give a child a toy", "Carry heavy dumbbells (farmers walk) between each workout", and "Do a friend a favor". You need to make sure you either video or photograph yourself doing or completing the challenge, then upload it to social media. It is that social effort that earns you points, with your total at the end of the Grit Challenge deciding what prize or prizes you're in the running for.
If by the end of the challenge you've only managed to get 50 points or less you're in the draw for 1 of 15 bottles of True Grit Multi. If you have 100 or less you're in the draw for both a Multi as well as 1 of 10 bottles of True Grit Test. As you can see the more points you get the better the prizes you can win. The other levels are 500 points for 1 of 5 True Grit Posts, 1,000 points 1 of 5 True Grit Proteins, and 5,000 points being the grand prize of True Grit clothing and the brand's entire line up of supplements.
To find out more or get started in True Grit's 2016 Grit Challenge Sweeps simply visit truegritness.com.