While we only just met Ancient Nutrition and its unique chicken bone broth protein powder simply named Bone Broth Protein. The relatively new name has already decided to expand its line-up, with two more flavors for its flagship formula as well as two spin-offs. The four new additions have not been launched yet, however when they do they're going to double the size of Ancient's product line.
Firstly we'll go over the two new flavors the brand has put together which will join its originals, Chocolate, Vanilla, and Pure. The upcoming Bone Broth Protein flavors are both much more creative than any of its current options with Banana Creme and Cinnamon Apple.
Moving on to Ancient's two spin-off supplements you have Bone Broth Protein Coffee and Bone Broth Protein Greens. The two new versions of the chicken bone broth based formula are fairly self-explanatory, with both confirming what makes them different in their titles.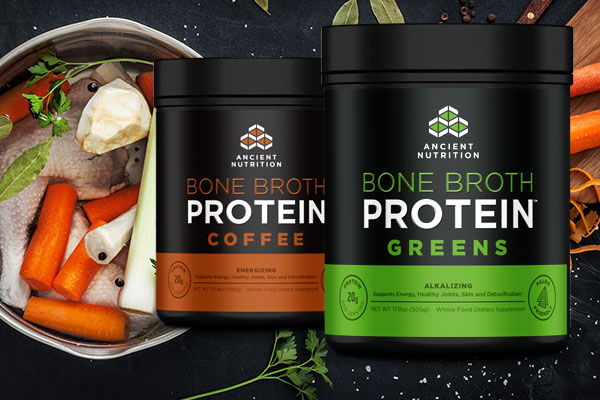 Bone Broth Protein Coffee is simply Bone Broth Protein combined with organic espresso roast coffee, supplying 50mg of naturally occurring caffeine per serving. As for Bone Broth Protein Greens, it is a combination of Bone Broth Protein and alfalfa and oat grass, which is said to be the "equivalent of over 80 grams of fresh green leafy vegetables!"
You can read more about each of Ancient Nutrition's upcoming Bone Broth Protein spin-offs as well as a bit more on its two new flavors on its website. As for when you can expect to see the lot on shelves, according to the brand the four are all due to be available sometime next month.