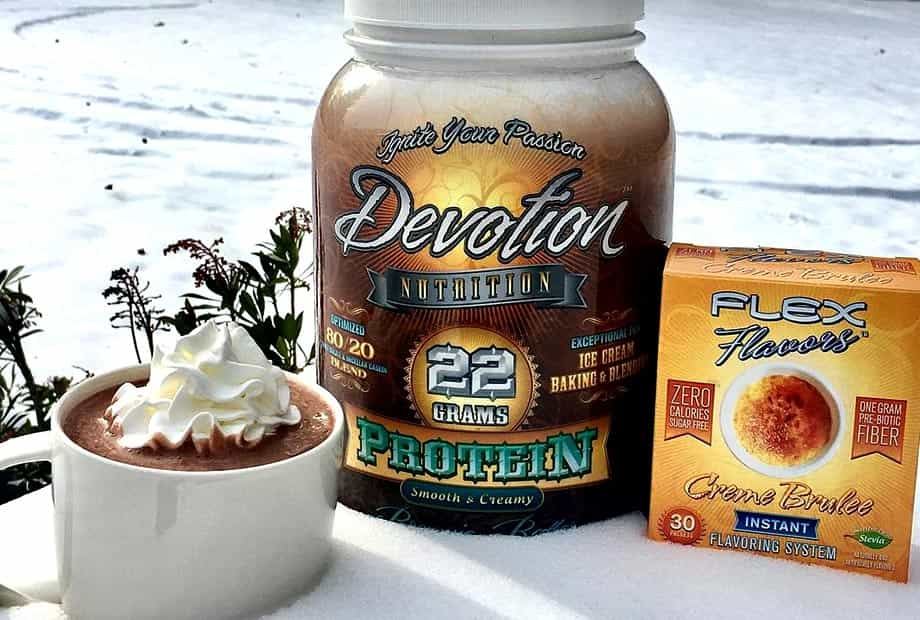 It's not often we come across a truly unique brand, although today that is exactly what we have with Devotion Nutrition. If you haven't come across the company before, it does have a very small line-up of supplements but it's well worth checking out. Basically it has just two products or two product lines, Devotion Flex Flavors and Devotion Protein.
The Flex Flavors series is Devotion's slightly more creative line, with a collection of 15 different flavors designed to spice up almost any kind of beverage. The unique supplements come in boxes of 30 stick packs, and in each of those stick packs is 2g of zero calorie, stevia sweetened powder designed to add their title flavors to whatever you're drinking. The list of options Devotion has available for its Flex Flavors series is very impressive with flavors like Monkey Bread, Birthday Cake, Creme Brulee, Razzmatazz, and Maple Bacon.
Moving on to the other half of Devotion Nutrition's family of products, you have its protein powder simply named Devotion Protein. This supplement comes with a number of interesting features, including a semi-transparent breakdown of its protein as it claims 80% of it is from whey isolate, and the other 20% is from micellar casein. It also packs a blend of six digestive enzymes, an extra gram of MCTs, and it's been designed to bake with.
The brand actually promotes Devotion Protein as the "best tasting protein powder ever created", which we do plan on putting to the test. The product does only come in two flavors, although both of those do have a naturally sweetened alternative. The two options making up the protein's menu are the delicious sounding Brownie Batter, and a flavor we've never seen before in this industry with Angel Food Cake.
You can find out more about Devotion Nutrition on its website at devotionnutrition.com. On there you can also purchase any or all of its supplements, with the protein powders priced between $45.99 and $48.99 a tub, and the Flex Flavors at $15.99 a box or $17.99 for a box of all 15 of its flavors.