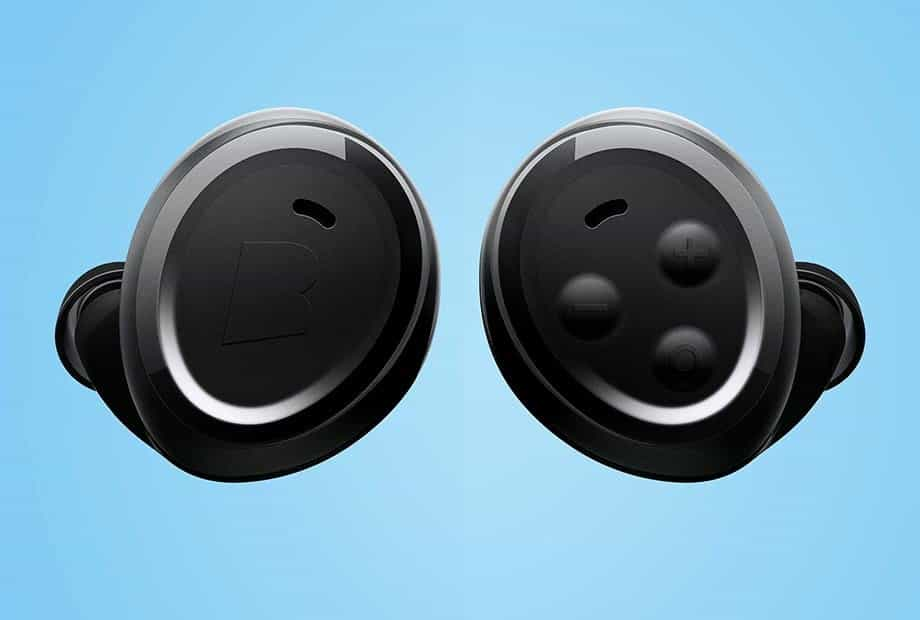 Ever since we purchased the original Jaybird BlueBuds X, we've been loyal fans of the product and the Bluetooth earbud lifestyle. Last year a lot of truly wireless earbuds surfaced, meaning no wires running from either of your ears. That included the release of Bragi's cost-effective Headphone, a device we've been working out with over the past couple of weeks to see how functional it is for lifters.
To start we'll quickly go over a few of the Bragi Headphone's important details for those that aren't familiar with them. The product relies on Bluetooth 4.0 connectivity, with a battery that will last six hours off a single two-hour charge, and as mentioned it is truly wireless, so no wires connecting the buds.
The fit and freedom
While the Headphone may not look like it's going to sit comfortably in your ear, its buds are about as seamless as Jaybird's Bluetooth competitors. What's even more impressive is that they don't fall out, despite not having any real kind of securing mechanism. Just be sure to follow the fitting instructions and switch the bud tips around to find the best fit for you.
During your typical complex lifts like deadlift, squat, and bench, they really don't budge. If however you move on to things like jumps, burpees, and other explosive movements, at high amounts, you will find they'll eventually shake free. Fortunately, it's not a sudden thing, as you'll feel them coming loose, so you will have the opportunity to adjust them.
The only other time you might find the Headphone breaking free is if you get a bit sweaty. Small amounts won't matter, but if you start bleeding sweat and it gets near your ears, you'll find the buds slip out quite easy. Our simple solution was put your gym towel to good use, and just wipe the sweat away when it gets too much, something most people do anyway.
Sound and connectivity
One of the most important things when it comes to any listening device is of course sound quality. With Bragi's Headphone you do get a nice delivery of sound, although it doesn't go as loud as you may like. Its highest volume is about three or fours clicks down from Jaybird's products, which actually isn't too much and is still more than enough to drown out everything in a normal gym setting.
The connectivity is pretty good, as you won't find it skipping or cutting out… So long as you keep your music device near you. We found that at about 20ft away the Headphone does start breaking up. The obvious solution to that is keep your device with you, and when it comes to things like walking lunges don't go too far.
Not bad for working out
Overall we found the Bragi Headphone to be a solid set of earbuds for working out, and the freedom you get from being truly wireless easily makes them our new favorite. The secure fit shouldn't trouble anyone who does workouts incorporating the usual barbell and dumbbell lifts, as well as machines, just make sure if you're a heavy sweater you use your towel.
As mentioned there are downsides, such as the volume not going as loud as other devices and the connectivity not stretching too far, however neither of those bothered us enough to dislike the product. No doubt truly wireless technology will only get better as the years go on, but if you want to get in now the Headphone is definitely a good, cost-effective option that you won't have trouble lifting with.