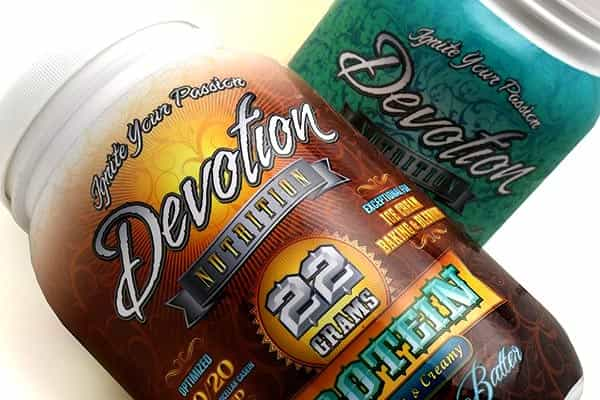 When we were first introduced to Devotion Nutrition, the brand came across as fairly creative with its unique and convenient zero calorie Flex Flavors. What was even more interesting about the brand was that it claims to have "the best tasting protein powder ever created." We recently got our hands on a tub of Devotion Protein to find out for ourselves exactly how true that statement is.
Not just your typical protein
Before we get into how Devotion Protein tastes, it is worth going over its formula as it isn't your typical protein powder. Devotion actually packs quite a few extras into its protein competitor on top of its traditional nutrition profile of 22g of protein, 4g of carbohydrates, 2g of fat, and 120 calories.
The extras thrown in with Devotion Protein include a transparent breakdown of its protein sources, with 80% of it coming from whey isolate and the other 20% from micellar casein. The product is also gluten free, features no added amino spiking ingredients, has a gram of MCTs, comes in stevia flavored options, and lastly packs a handful of digestive enzymes.
Extremely thick formula
For our Devotion Protein review we have just one of the supplement's two tastes with the very chocolatey effort Brownie Batter. First of all Devotion Protein is an extremely thick formula, definitely one of the thickest we've come across. Basically, if you're a two scooper when it comes to protein, you're going to want to double up on the water, or at least experiment a bit. We found 16 to 20oz to be the best for us, however even at that amount, it's still a relatively thick shake.
Intense chocolate shake
Moving on to the taste of the Brownie Batter Devotion Protein, it is exactly what it sounds like, a thick chocolatey, brownie batter experience. The flavor reminds us a lot of the Chocolate Chocolate Chip Animal Whey, although its thickness really helps amplify the whole thing and squeeze in a lot more chocolate intensity.
Despite having a very thick and dense chocolate flavor to it, the Brownie Batter Devotion Protein does also have a sweet side. When it initially hits you, before you realize how thick it is, there is a sweetness to it that seems quite light. The full thickness of it all then takes over pretty quickly, making for a real chocolate filled ride, that does not disappoint.
Is it the best?
As you can tell Devotion Protein's Brownie Batter flavor is definitely delicious, however the big question remaining is does it live up to the brand's claim of being "the best tasting protein powder ever created"? To that we'd have to say it makes a strong argument.
Devotion Protein is easily one of the best chocolate proteins we've ever tried, and one we'd be more than happy to purchase as our go to protein. It's not a clear winner in our minds, although with that said we do think it's good enough to win the #1 spot for some protein users.