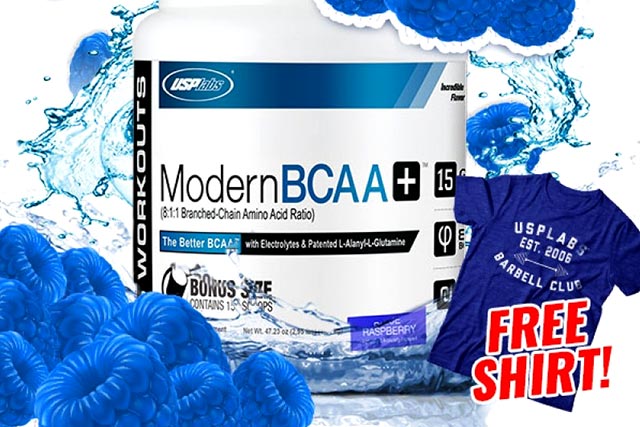 Earlier in the year USP Labs launched a massive two and a half times bigger size for its popular amino formula Modern BCAA. The product packs a whopping 150 scoops, or 75 servings, however unlike the regular 30 serving, it doesn't come in a large amount of flavors.
This week USP Labs has added another flavor to its 75 serving Modern BCAA, bumping up its relatively small menu from two to three. The new addition to the supplement's list of options is Blue Raspberry, which joins the two originals Fruit Punch and Watermelon. As per usual USP Labs has introduced its latest release with a deal, which isn't as good as the one from earlier in the year, but still worthwhile.
Through until this Friday you can get the new 75 serving, Blue Raspberry Modern BCAA for $10 less than usual at $49.99. It comes with a free Barbell Club tee in the size and color of your choice, and you also have the option of adding a tub of Jack3d in for an extra $20. To access the deal simply visit this link before Friday.