Smart Bar Review: PhD has a hit protein bar on its hands
Jun 27th, 2017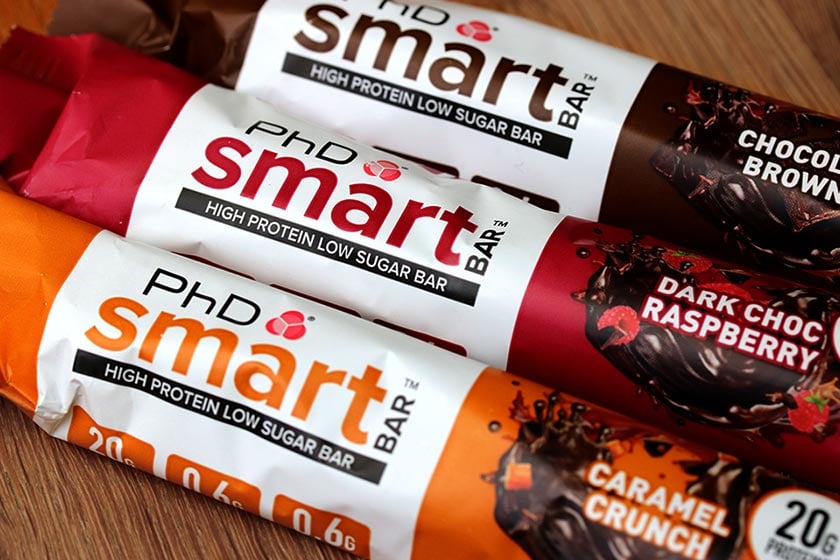 When PhD Nutrition first announced its high protein, low sugar bar the Smart Bar, like most supplement companies it said it was incredibly delicious. The flavors certainly sounded like the brand was telling the truth, so we recently picked up a handful for an honest PhD Smart Bar review.
Over all the years we've followed the UK brand PhD Nutrition, we've never seen anything overly game changing from it in our opinion. With that in mind, we didn't purchase the Smart Bar thinking it was going to be anything amazing. Much to our surprise, the product is one of the best tasting protein bars out there right now, so good that we wouldn't disagree if someone said it was indeed the best.
Mild Caramel Crunch
The first flavor we have for our PhD Smart Bar review is Caramel Crunch, and while it is our least favorite of the three we brought. There are only a couple of chocolate caramel protein bars on the market we'd say are better. The caramel in this one isn't overly sweet; it's more of a smooth taste that works in with everything else the bar has going on.
The chocolate coating is the flavor that dominates the Caramel Crunch, although as you start chewing the gooey caramel underneath does add in its two cents. When they then mix with the doughy, somewhat flavorless center, you're left with a delicious chocolate caramel experience, with the crunchy bits in the gooey caramel layer giving you that title crunch for a good few seconds.
Chocolate overload
Next on the list is Chocolate Brownie, a flavor we would have thought would've been the best of the Smart Bar menu. This one is definitely impressive; however, it is a lot like the Caramel Crunch. The sweet chocolate coating comes first, but instead of getting any other flavors mixed in with it, the chocolate taste just gets richer as you bite in and chew the bar.
Eventually, you get a truly dark, double chocolate like taste in your mouth, that's so sweet and heavy that you forget there is also some crunch to it. The Chocolate Brownie Smart Bar is a must for chocolate lovers, especially those that often have a craving for the real thing.
PhD's masterpiece
The third and final flavor in our PhD Smart Bar review is Dark Choc Raspberry, which we have to say is the brand's masterpiece. This flavor absolutely blew us away. The solid chocolate layer is still just as sweet as the others, although in this one it is topped by a gooey, seemingly pure sugar, raspberry syrup. The amazingly sweet fruity addition mixes with the chocolate and creates what we can only describe as unforgettable, candy bar-like experience.
Best bar of 2016
The PhD Smart Bar is without a doubt, one of the biggest surprises we've had when it comes to protein bars in a very long time. Its chocolate outer is just as good as Grenade's Carb Killa, and the gooey second layer is where the product delivers that one, two punch. The doughy middle is also nice, but only in the sense that it adds a thickness and smooth texture to all the flavor.
In our opinion, so far the Smart Bar is the best protein bar released in 2016. For a solid 20g of protein, around half a gram of sugar, and between 237 to 238 calories, the high protein snack is impressive, to say the least. Its nutrition is very similar to the delicious ProSupps MyBar, with its Dark Choc Raspberry being better than most, if not all of Grenade's Carb Killas.
Collagen protein
While the PhD Smart Bar is incredibly delicious, it is worth pointing out that it does use collagen hydrolysate and soy protein as sources of protein, however, neither is its primary source. Milk Protein is where the bar gets most of its protein from, with collagen being its second highest, and soy protein third.
For those unfamiliar with collagen, it's not preferred in supplements mainly because it isn't as beneficial as the likes of milk and whey protein. With that said, if you're more concerned about macros and calories, and are happy to go without the benefits of more BCAAs and such from a protein bar, go ahead and give the Smart Bar a try. It is also worth purchasing as a treat for dieters, as it is far better than your typical cheat meal or snack.