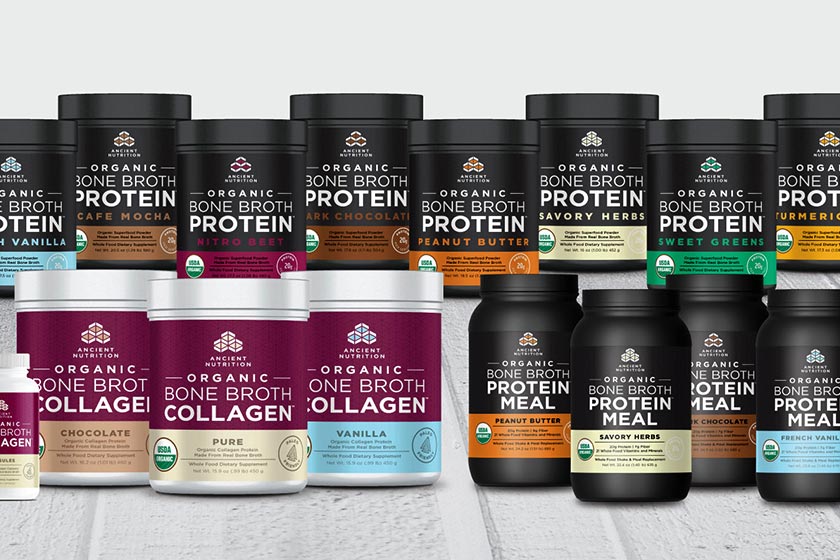 Last week we saw Ancient Nutrition unleash a new line of organic Bone Broth Protein flavors which brought with it a total of eight new options. As big of an expansion as that was, this week we've got news of even more new supplements from the now widely available brand.
Ancient Nutrition has basically taken its unique protein concept, and blown it up across a number of different categories. Most of the products do stick with the whole bone broth protein theme, although what sets them all a part is that they're infused with extra, but relevant features.
Bone Broth Protein Capsules
The first item from Ancient Nutrition's massive list of new supplements is Bone Broth Protein capsules. The brand has essentially transformed its original formula into pills, however seeing as they're capsules you don't get as much of everything as you do in the powder.
Bone Broth Protein Fit
Next is the Fit series made up of two products, Bone Broth Protein Fit Thermo Burner and Bone Broth Protein Fit Muscle Booster. Both items come in powder and capsule form, with Thermo Burner combining chicken bone broth protein, ashwagandha, and six hot peppers to help with weight management. As for Muscle Booster, that also combines chicken bone broth protein and ashwagandha, as well as cordyceps and fenugreek to support muscle size and strength.
Bone Broth Protein Burst
We now move on to Ancient Nutrition's Bone Broth Protein Burst, which is the brand's pre-workout supplement. Once again it maintains Ancient's chicken bone broth protein and mixes it with ashwagandha, and also energizing and adaptogenic ingredients such as yerba mate, green tea, green coffee, coffee berry, ginseng, and rhodiola.
Bone Broth Protein Meal
The Bone Broth Protein Protein Meal is another new product from Ancient Nutrition, that simply turns the Bone Broth Protein formula into an all-in-one style, whole food shake. The brand has taken chicken bone broth protein and teamed it with a variety of vitamins and minerals, probiotics, digestive enzymes, a few fiber sources, and a botanical blend.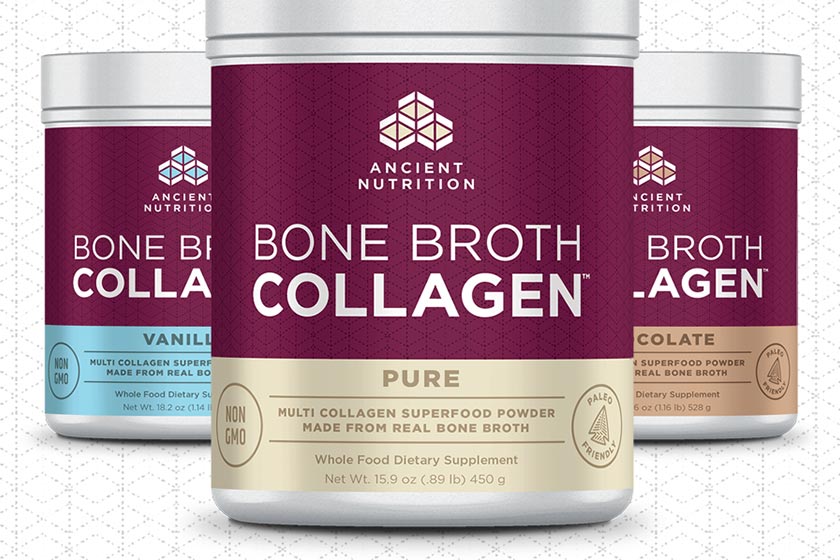 Bone Broth Collagen
Last but not least we have Ancient Nutrition's other new series called Organic Bone Broth Collagen, which brings a new type of protein to the brand's family. Just as the name of it suggests, the products in this line are all powered by natural bone broth collagen concentrate sourced from chicken, beef, and turkey. The formula comes in three flavors as well as a capsule option, although, like the regular Bone Broth Protein capsules, the collagen capsules don't pack as much as the powder does per serving.
Find out more
As mentioned in the beginning, Ancient Nutrition has introduced an incredible amount of new supplements. It has truly exploded its unique bone broth concept into a wide variety of categories that will no doubt be of interest to its current fan base. For those interested in finding out more about all of the brand's latest innovations, check out its website at ancientnutrition.com.