Today we have all of the details we were previously missing when we posted about Force Factor's new protein powder competitor Whey30. While we were able to confirm a lot of its major highlights such as 30g of protein per serving, we didn't know any of its other macros, its exact protein sources, or all of its flavors.
The complete nutrition breakdown of Force Factor Whey30 on top of its title relevant 30g of protein includes 5g of carbohydrates with a gram each of that sugar and fiber, just one gram of fat (half saturated), and a total of 150 calories. It is also worth mentioning that the protein in Whey30 all comes from whey, as expected, with a blend of whey isolate and whey concentrate.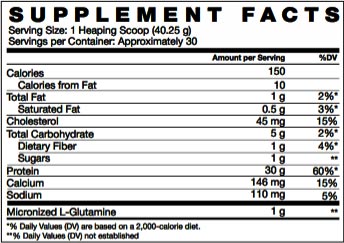 Another detail we didn't know about before for Force Factor Whey30, is that each serving features an extra gram of glutamine for improved recovery. Also according to the label of the supplement, there is "absolutely no amino spiking" in Whey30, so the glutamine is not counted towards that 30g of protein claimed.
Lastly, we have the full Force Factor Whey30 menu to confirm, which we previously only knew would have Chocolate and Vanilla. There is, in fact, a third flavor on that list that's much more creative than either of the other two with the sweet sounding cereal recipe, Fruity Cereal Milk.