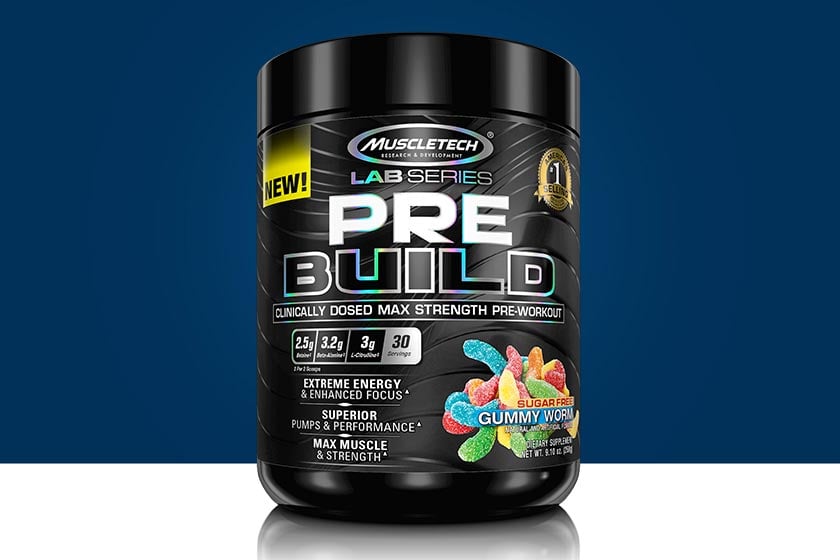 Back in June, we got our first look at Muscletech's all-new Lab Series supplements with Whey Isolate, Pre Build, Mass Gainer Extreme XXXX, and Hydroxycut Ultra Stim. Today we've finally got a much better look at the pre-workout competitor of the four, Pre Build.
Complete pre-workout experience
In the initial preview of Muscletech's Lab Series products, we didn't get a whole lot of information about Pre Build. All we really discovered was that it's a pre-workout, promises increased energy, focus, muscle pumps, and performance, and features 3.2g of beta-alanine per serving.
While there isn't much more to add to the list of effects with Pre Build, as energy, focus, pumps, and performance are about all you could want in a pre-workout. We now know there are a lot more ingredients to the supplement, ten to be exact, all on top of the previously confirmed beta-alanine.
Pre Build ingredients
For energy and focus Pre Build features 350mg of caffeine, 200mg of choline bitartrate, 300mg of galangal, 40mg of yohimbe (6%), and 50mg of pure TeaCrine. For performance and strength, you get a gram of taurine, 2.5g of betaine, and of course the beta-alanine. Lastly, taking care of pumps is 3g of citrulline, half a gram of ViNitrox, and 125mg of Sensoril ashwagandha.
Available this summer
As far as we know, Muscletech is still planning on increasing the size of its Lab Series with Whey Isolate, Pre Build, Mass Gainer Extreme XXXX, and Hydroxycut Ultra Stim, some time this summer. At the moment we can only confirm one flavor for Pre Build with the candy inspired recipe Gummy Worm, which will be available in the one 30 serving or 15 maximum serving tub size.