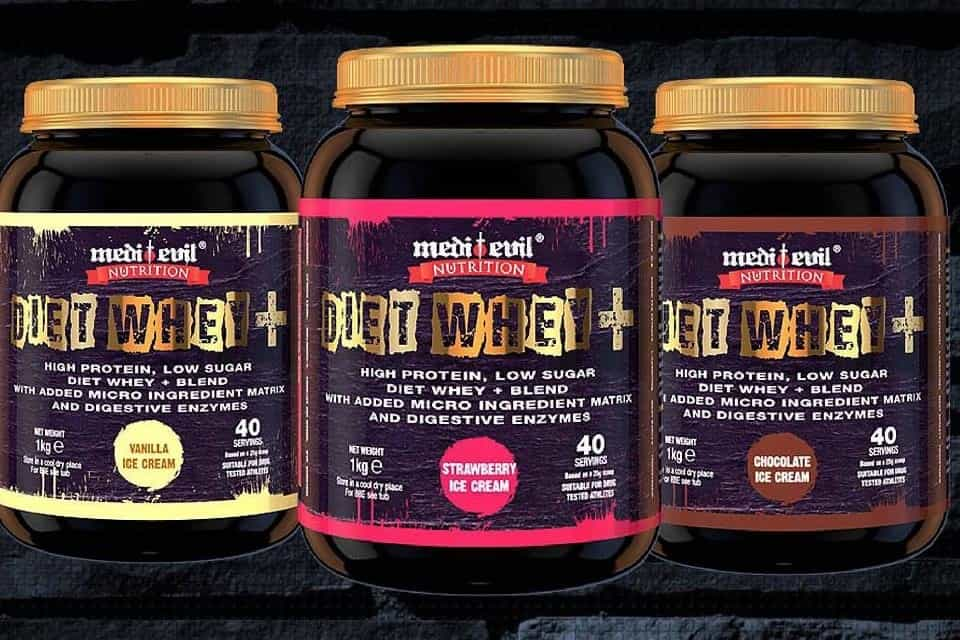 The UK company Medi Evil Nutrition has introduced an entirley new protein powder this week featuring a name similar to another UK brand's supplement. The title of the new release is Diet Whey, which is of course close to PhD's long-runing Diet Whey protein line.
While Medi Evil does already have a couple of other products in the protein powder category, Diet Whey has its own unique point of difference. Compared to the brand's gainer Colossus and more mainstream protein formula Whey Fury, Diet Whey is more for those looking to enhance the fat burning process featuring a combination of a typical protein formula and weight loss.
Medi Evil's new Diet Whey is indeed a fat burning protein powder that brings together a blend of multiple protein sources and a small mix of common weight loss ingredients. Each serving provides a light 18g of protein from whey isolate, concentrate, hydrolyzed whey, and soy protein.
The other macros in Diet Whey are 3.5g of carbohydrates with less than a gram of that sugar, less than a gram of fat, and a low total of 91 calories. Taking care of the extra fat burning benefits in the supplement are unknown amounts of CLA, green tea, and carnitine.
Fans of Medi Evil Nutrition can now purchase their favorite brand's new protein direct from its website at medievilnutrition.com. A full-size tub will cost you £32.99, with each tub packing 40 servings, or around 29 if you prefer 25g of protein per serving.