RF Bar Review: Not your average candy protein bar
Oct 13th, 2017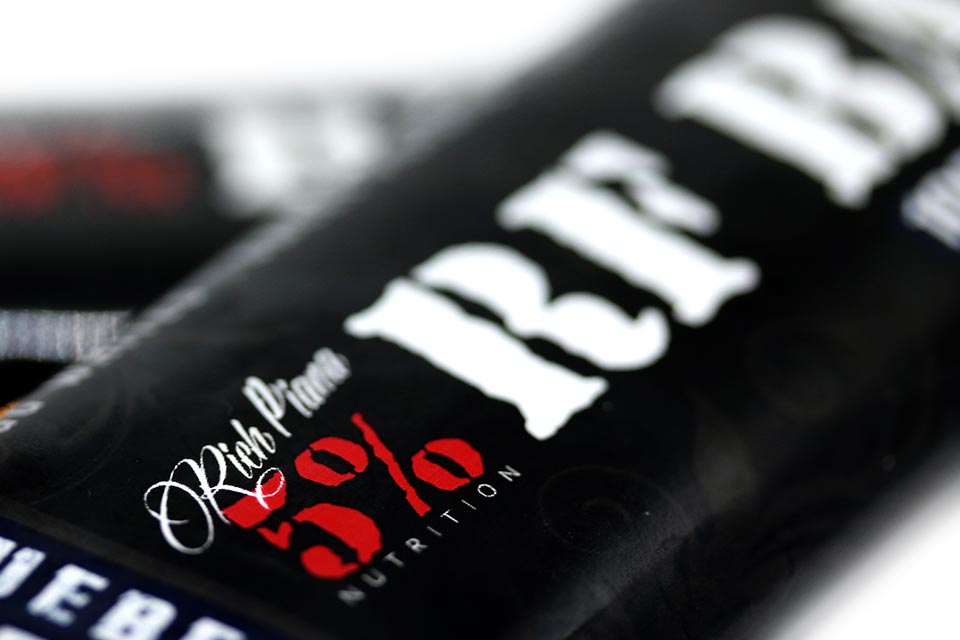 The RF Bar is a high protein snack from Rich Piana's 5% Nutrition, that was built on the idea of the original Real Food powder. It's a protein packed bar made with only real food ingredients such as sweet potato, egg whites, oats, blueberries, and pecans.
The macros behind 5% Nutrition's RF Bar are a bit different from your typical protein bar. It packs the usual 20g of protein with slightly higher numbers in other areas including 26 to 34g of carbohydrates, 10 to 11g of fat, with 240 to 270 calories. The reason those numbers vary is that the macros differ from flavor to flavor, with Blueberry Cobbler being the lighter one and Sweet Potato Pie a little higher.
Not a candy protein bar
Before we get into how the RF Bar tastes, you really need to know what you're getting with this one. 5% Nutrition promotes the product with the line "These are not your average candy protein bar!", which is an extremely important fact.
The main reason you're going to want to get this bar is that its made with real food. The primary source of protein in the RF Bar is egg whites with all the other macros coming from its inclusion of sweet potato, oats, and yams. These are all things you need to keep in mind because if you treat this like a regular protein bar, you're not going to be impressed.
Single layer, strong flavor
The RF Bar is essentially a Quest-style protein bar, where it's just a slab with no flavor layers or anything like that. Right away it confirms that it is true to the brand's statement of "These are not your average candy protein bar!" If you're expecting something along the lines of ProSupps' sweet MyBar, Grenade's Carb Killa, or other candy bar style protein snacks, you will be disappointed.
When you bite into the Blueberry Cobbler, you do get a good amount of blueberry flavor, as you'd expect. The RF Bar is quite a thick, chewy snack, however, that blueberry flavor does stay strong throughout each bite. As for the Sweet Potato Pie, it's not as bad as we were expecting. The theme with this one is actually cinnamon and nutmeg, or at least that's what we get, which is just as full and consistent flavor wise as the blueberry.
Good for what it is
As mentioned earlier, the main idea behind 5% Nutrition's RF Bar is that it is made with real food, not something you get from a lot of other protein bars on the market. If that is your main priority and something you're willing to sacrifice flavor for, then you will likely enjoy the bar. For what it's made of, the brand has done a good job at making it more than edible and something you can get through.
If on the other hand you're someone looking for a deliciously sweet protein snack and don't care for the real food angle, you may want to stay away from the RF Bar. It's essential that you listen to what 5% Nutrition promotes the product as, which is not your "average candy protein bar!" It doesn't come close to those types of layered, real chocolate like bars, and would really disappoint if that was what you were expecting.