5% Nutrition RF Bar made from egg whites, oats and sweet potato
Oct 5th, 2017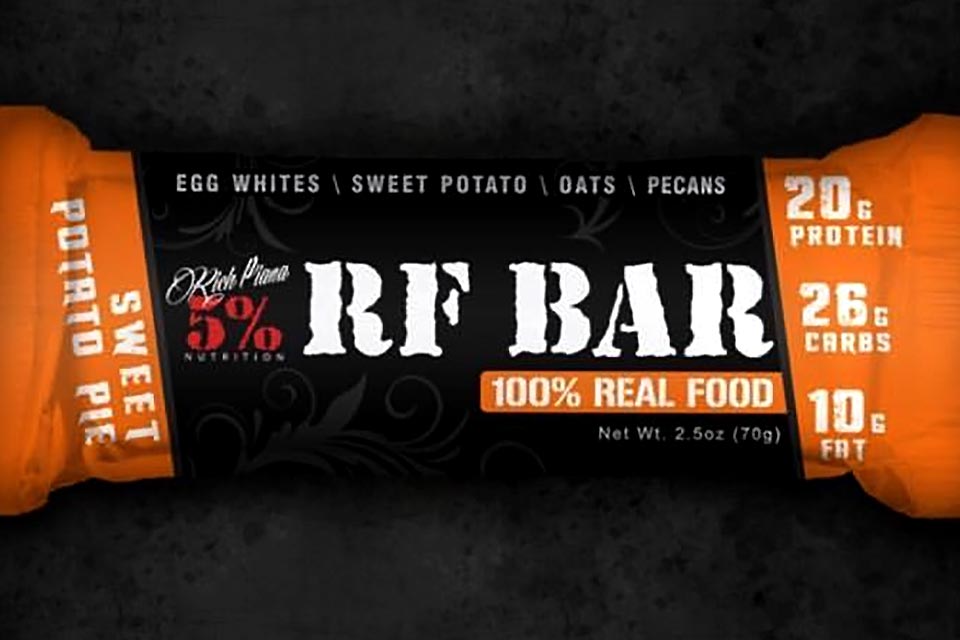 We've now got a lot more information about the all-new food bar from Rich Piana's 5% Nutrition called the RF Bar. The last time we posted about the supplement all we had to go off was a small sample size, which it turns out was less than a third the size of the real thing.
Real food ingredients
The 5% Nutrition RF Bar or what it stands for, the Real Food Bar, is essentially a light meal replacement bar that does use the same concept as the original Real Food powder. The bar alternative is made entirely from real food ingredients including egg whites, oats, sweet potato, pecans, and blueberries.
Two flavors
There are two flavors of the RF Bar with Blueberry Cobbler and Sweet Potato Pie, the same exact flavors as the Real Food powder is available in. While they are two flavors of the same bar, their macros aren't the same and they also have one ingredient different with Blueberry having blueberries and Sweet Potato having pecans.
RF Bar macros
The nutrition profiles making up 5% Nutrition's two RF Bars have the same 20g of protein per bar. Where they get slightly different is Sweet Potato Pie has 26g of carbohydrates and 10g of fat, with Blueberry Cobbler packing quite a bit more in 34g of carbs and 11g of fat. The calorie counts vary from flavor to flavor as well with Blueberry at 240 and Sweet Potato a little above at 270.
Launching soon
The new RF Bar isn't available anywhere yet by the looks of things but should be dropping soon. Fans of Rich Piana's 5% Nutrition interested in the launch are being told to keep an eye on its official website and online store at rich-piana.com.