A new version of Redcon1's pre-workout supplement Total War has been unleashed down under in Australia. It has a few things different compared to the original Total War formula available in the US, most notably that it doesn't feature either of the big stimulants, DMHA or eria jarensis.
While the new Australian Total War is a bit different when it comes to stimulants, the rest of the ingredients in the supplement are fairly similar to the original. The combination still looks to deliver a complete pre-workout experience with increased energy, mental focus, enhanced muscle pumps, and improved performance.
The ingredients kept the same for the Australian Total War are the pump booster citrulline malate at 6g per serving, 3.2g of beta-alanine, a gram of taurine, 250mg of caffeine, and 10mg of BioPerine black pepper. Dicaffeine malate and theobroma are also in the mix at the same doses as the US Total War, however they are branded versions with Infinergy dicaffeine malate and Cocoteanol theobroma.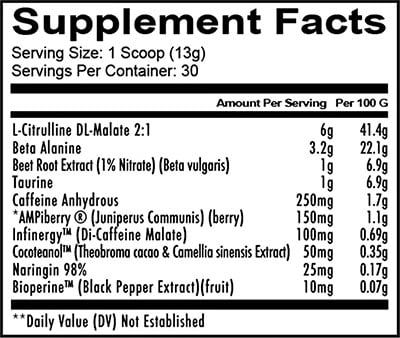 The new features in Total War that you won't find in the original product are a gram of beetroot (1% nitrate), 25mg of naringin, and 150mg of AMPiberry. Those new ingredients are in place of as mentioned DMHA and eria jarensis, although it is worth mentioning the pump enhancer agmatine has also been dropped from the formula.
You can get a closer look at Redcon1's Australian Total War in a number of major retailers in the country, including one of our favorites, Massive Joes. The store is already stocking the updated pre-workout in 30 serving tubs for $69.95 AUD ($54.54 USD) and five flavors with delicious options like Bubblegum and Cotton Candy.