Syner-Vol is a stimulant-free, powerhouse pre-workout like no other
Jun 21st, 2018
WG Nutrition is a relatively new name in the supplement industry who currently has just the one product available. In the very near future, the brand plans on expanding its lineup with an exciting new supplement that based on its formula, looks to be one of the best stimulant-free pre-workouts we've seen in a while.
The name of WG Nutrition's upcoming pre-workout is Syner-Vol, and it is a name worth remembering. The product features a powerhouse formula including ingredients to help enhance endurance, improve mental focus and drive, and increase muscle pumps. It is as mentioned, stimulant-free, so it won't give you that kick you get from the likes of caffeine.
You can see the full label for WG Nutrition's exciting Syner-Vol below, which is loaded, to say the least. A full serving of the pre-workout weighs in at a heavy 26g and comes packed with 13 active ingredients, 7 of those premium branded ingredients, and all of them impressively dosed.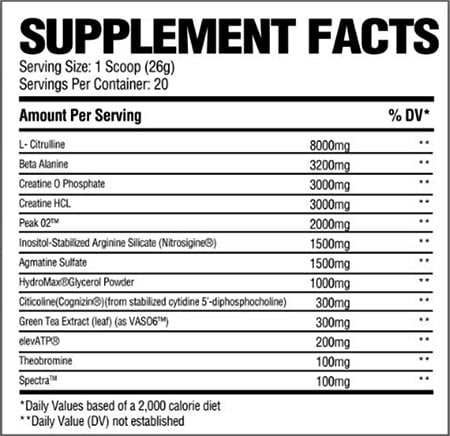 Some of the biggest highlights from WG Nutrition's Syner-Vol include 2g of the PeakO2 performance blend, and a strong 8g of pure citrulline. There is also a gram of HydroMax glycerol, 300mg of Cognizin citicoline, 200mg of ElevATP, 300mg of the pump booster Vaso6, and a combined 6g of creatine from two creatine sources.
WG Nutrition has really done its best to cover every area possible with its Syner-Vol formula. The only thing holding it back from being an all-around complete pre-workout is that it has no stimulants. If you want more of an energy kick, however, the easy solution is to mix it with a simple stim pre-workout that doesn't clash with any of Syner-Vol's ingredients.
According to WG Nutrition, Syner-Vol is currently expected to be available in about five weeks from now. That should put its launch somewhere around the end of next month with the pre-workout supplement due to release in the one 20 serving tub size and one Mango Punch flavor. There will also be a pre-order opportunity which we will have details on when it's confirmed.