While MyoBlox has still yet to release a picture of what its long-awaited, Guerrilla Chemist Loco pre-workout is going to look like. To get even more excitement going for the supplement, the brand has now actually revealed the combination of ingredients behind the promising product.
We've got the official facts panel for the highly anticipated Guerrilla Chemist pre-workout pictured down below. As you'd expect, the supplement is loaded with ingredients, including a number of features from the regular version of Loco along with some specific to the Guerrilla Chemist edition.
The transparently dosed ingredients in the upcoming MyoBlox product are the pump enhancer GlycerPump glycerol and the PeakO2 performance blend, both dosed at 2g per serving. You then have the mental focus features lion's mane at 600mg and the branded Kanna sceletium tortuosum at one gram.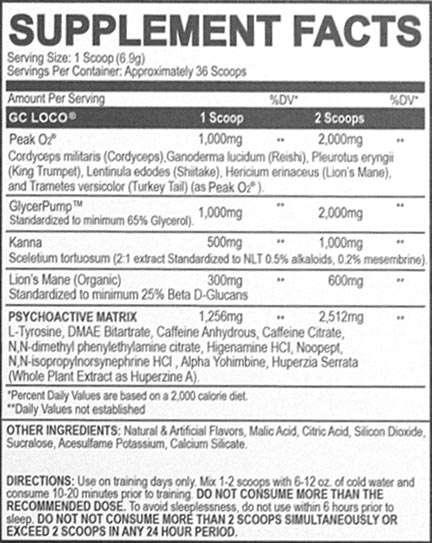 The rest of the ingredients in the Guerrilla Chemist version of Loco are all wrapped up in its non-transparent Psychoactive Matrix. That blend weighs in at 2.512g per two-scoop serving and includes tyrosine, DMAE, caffeine, eria jarensis, higenamine, noopept, isopropylnorsynephrine, alpha yohimbine, and huperzine A.
Now that we've got a full look at the ingredients that are going to be in MyoBlox Guerrilla Chemist Loco, the wait is on for the launch of the supplement. According to the brand the pre-workout is currently in production, so it shouldn't too long before it is available for purchase.