Amazon's supplement brand Solimo has launched two new protein powders this week, one of which is a little more straightforward than the other. Both of the products are powered by whey protein, with the not so simple supplement having a bit more to it than that.
The two new releases from the Amazon Brand Solimo are Whey Protein and Whey Protein With Creatine. The former provides 24g of protein per serving from a blend of whey concentrate, isolate, and hydrolysate, along with a reasonably high 9g of carbohydrates, 2.5g of fat, and 150 calories.
As for Solimo's Whey Protein With Creatine (label below), it is powered by the same blend of proteins but instead provides 32g of protein per serving. What actually makes the product different from Whey Protein is just as its title says; it also has creatine in the mix with a 2.6g non-transparent blend of creatine monohydrate, BCAAs, and glutamine.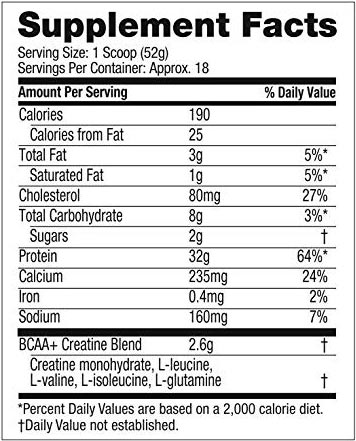 Amazon Brand Solimo's Whey Protein is available in 57 serving, Vanilla and Chocolate flavors, and just a 44 serving Vanilla for Whey Protein With Creatine. The regular list price of Solimo's new protein powders is $44.99, however Whey Protein is currently discounted to a competitive $34.87 and Whey Protein With Creatine is $34.19.
While that is a solid price point for the regular Whey Protein at just under $35 for 5lbs, do keep in mind it doesn't have as much protein per tub as a lot of its competitors. An entire bottle of the product has 1,368g of protein, compared to the likes of Gold Standard which is priced higher but packs a total of 1,752g in its Vanilla flavor.