Red, White & Boom H-Bomb Edition is 'Merica Labz more intense version of its stimulant pre-workout that launched in the UK last month. We purchased a tub of the supplement at this year's BodyPower Expo in Birmingham, England, and have been running it alongside a few other pre-workouts over the past few weeks.
The alternate version of 'Merica Labz Red, White & Boom comes with a much heavier mix of energy and focus ingredients compared to the regular one here in the US. It includes the same doses of creatine, citrulline, and beta-alanine, less choline and tyrosine, but 50mg more caffeine at 450mg, as well as added theobromine, DMHA, and hordenine.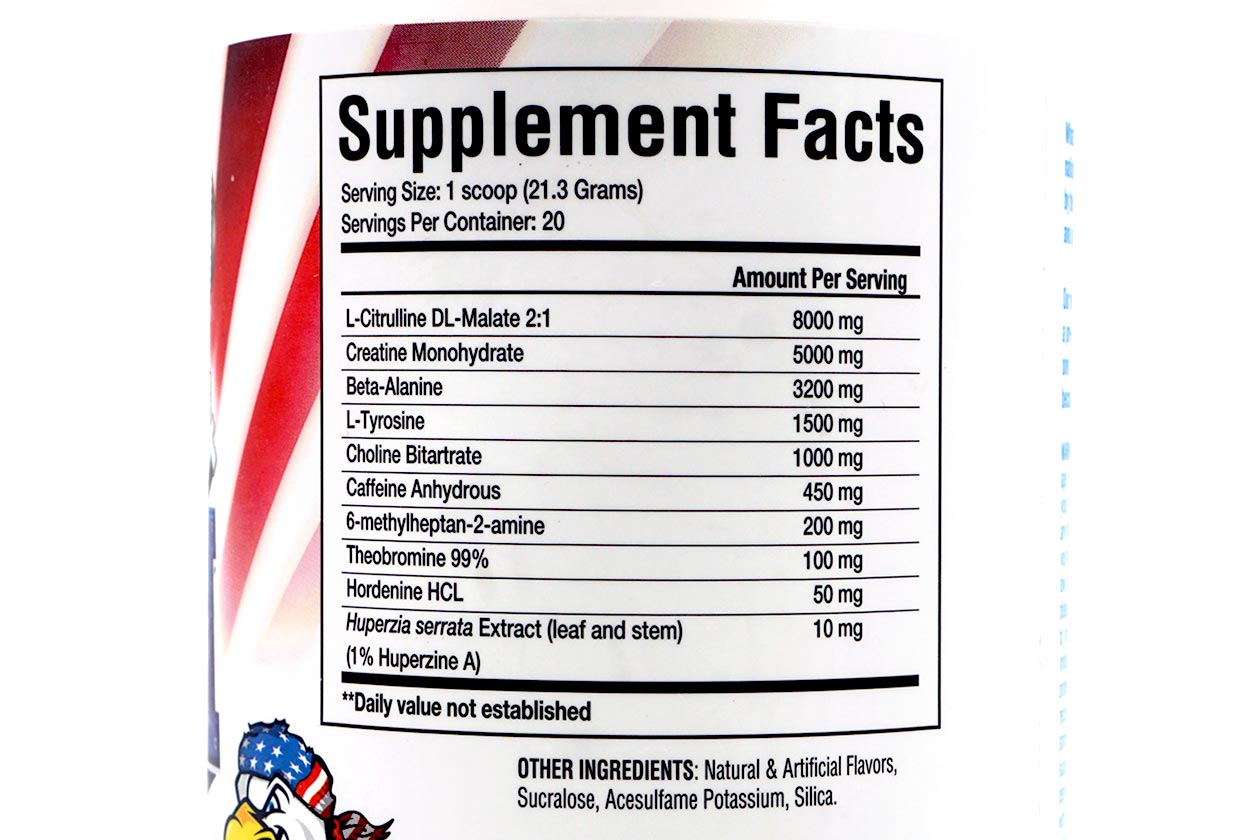 Review
If you're at all familiar with pre-workouts, ingredients, and doses, you can tell by looking at Red, White & Boom H-Bomb Edition's formula that it is an intense supplement. After our first workout with the product, that proved to be exactly the case, as this pre-workout does indeed deliver a well-rounded, powerhouse performance.
While most pre-workouts these days come with strong combinations of energy and focus, the H-Bomb Edition of Red, White & Boom is truly a step up. Despite being fairly familiar with intense stimulation, this supplement hit us hard and ensures you enter the gym feeling more energized and ready-to-go than any pre-workout we've reviewed in a while.
When the energy from Red, White & Boom H-Bomb Edition kicks in, you'll find yourself knocking out set after set with very little rest in between purely because you feel that good. As mentioned, the pre-workout also has a strong dose of focus right from the start, that feels like it almost instantly clears your mind and provides laser sharp focus.
The strong stimulation from the product does make it difficult to notice the other effects going on in Red, White & Boom H-Bomb Edition, but they are definitely there. There is an obvious performance boost in the pre-workout, as while the increase in energy does encourage short rests and intense sets, the performance makes sure there is no drop in the weight you're lifting or any extra exhaustion.
'Merica Labz H-Bomb supplement really gives you the power to perform at your strongest and beyond, depending on what kind of workout you're doing. The intense version of Red, White & Boom also helps enhance muscle pumps with a more dense pump than bloated and full, although it is certainly noticeable even with everything else going on.
Summary
The special edition 'Merica Labz pre-workout is simply a powerhouse supplement delivering intense energy and focus, with added performance and pump to make it a well-rounded experience. The original Red, White & Boom from 2016 has always been a favorite of ours, although we have to say the H-Bomb edition is easily the brand's best pre-workout to date.