Promising energy and fat loss enhancing Thermagize XT from SNS is here
Aug 5th, 2019
Serious Nutrition Solutions has unleashed its all-new stimulant powered weight loss and intense energy supplement, Thermagize XT. There is quite a bit of excitement behind this one, mostly because when it was originally announced, the brand said it would be the strongest single capsule energizer on the market.
Thermagize XT is available first from Serious Nutrition Solutions' retailer partner DPS Nutrition. The store has the promising product priced at $36.99 for a full-size 60 serving bottle. For a limited time however, you can save 20% on Thermagize XT using the coupon "DPS10" which drops it to $29.59.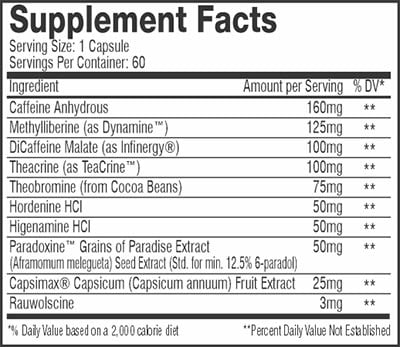 As for the formula and benefits of the newest Serious Nutrition Solutions supplement, as expected, it comes with a loaded mix of ingredients. You can see the product's full combination of features in the label above including 3mg of rauwolscine, a combined 260mg of caffeine, and the powerful pair of Dynamine and TeaCrine.
On top of its stimulating ingredients, Serious Nutrition Solutions' Thermagize XT also comes with premium weight loss features such as CapsiMax and Paradoxine. The entire formula promises an all-around experience with appetite control, enhanced focus and metabolism, and as mentioned, increased energy and fat loss support.