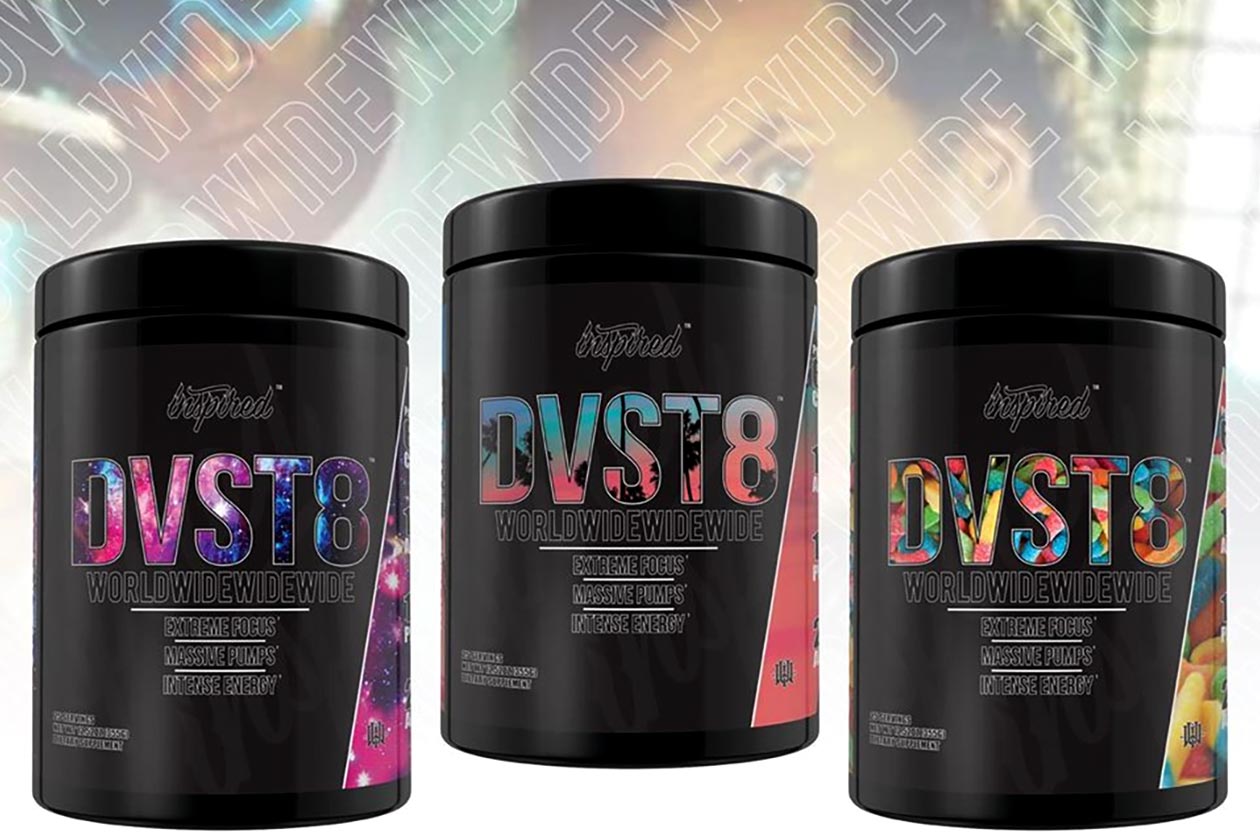 Inspired's international-friendly DVST8 Worldwidewidewide or more simply DVST8 Worldwide, is now available for pre-order from its website, but for just three days. Also, if you get in today and secure yourself a tub of the pre-workout, you can save 35% with the brand's Cyber Monday sale, which discounts the new DVST8 to an unmissable $29.90.
Each tub of Inspired's DVST8 Worldwide comes with 25 servings, and those are full servings, so you certainly get your money's worth on this one. The supplement is not something you'll need to take two scoops of to get the maximum experience, which is the case with the brand's powerful DVST8 White Diamond and stimulant-free FSU.
Balanced benefits
As we've come to expect from any DVST8 release, Inspired has indeed packed out its newest pre-workout product. The reputable brand has brought together a fairly well-dosed and well-rounded mix of ingredients to deliver intense energy and strong mental focus, as well as improved performance and muscle pumps.
Formula
On the energy and focus side, DVST8 Worldwide includes half a gram each choline bitartrate and tyrosine, 50mg each of pure Dynamine and theobromine, 200mg of Advantra Z, and 25mg of Kannease. Caffeine is, of course, also in the mix in the form of natural caffeine from green tea providing 300mg of caffeine per serving.
Rounding out Inspired's DVST8 Worldwide formula are four more features to take care of the performance and pumps benefits. In that department, you get a solid 6g of citrulline malate, 2.5g of betaine, a gram of the PeakO2 performance blend, and 1.5g of premium NO3-T arginine nitrate.
Stacking with FSU
Fans of Inspired may also notice that a couple of DVST8 Worldwide's ingredients aren't dosed as high as they are in FSU with the likes of arginine nitrate and PeakO2. That is actually so you can stack a regular serving of FSU with DVST8 Worldwide and get those maximum dosages with 3g of arginine nitrate and 2g of PeakO2.
Three flavors
As mentioned earlier, you can now pre-order DVST8 Worldwide from Inspired's website for the next three days for shipping in the next two to three weeks. The pre-workout has launched with three flavors to choose from, including Sour Yummies, Galaxy Pop, and Malibu Breeze.