Viterna is an up and coming supplement company out of Sweden that is just over one year old and is still growing reasonably well over in Europe. The brand has two series or sides to it; Viterna Vital, which is made up of basic, essential type products; and Viterna Ignite, which is where all of your complex, sports nutrition supplements come in.
This month, Sweden's Viterna has launched another Ignite Series product, with something for the incredibly competitive pre-workout category. The latest effort from the barely one-year-old company is the royally branded supplement 'Gladiator Blood', featuring a reasonable mix of ingredients and dosages for a comprehensive experience.
Viterna has packed its first real competitor for the pre-workout market with 16 active ingredients, all of which are openly and transparently dosed. The product's formula includes highlights such as 3g of the performance enhancer beta-alanine, 2g of tyrosine and half a gram of choline for focus, and 3g each of citrulline malate and the classic, creatine monohydrate.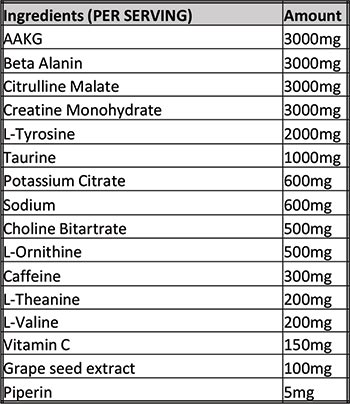 Gladiator Blood does, of course, also come with caffeine for a solid increase in energy with the classic stimulant dosed at 300mg per full serving. As mentioned, the supplement is a relatively comprehensive experience featuring a few ingredients for each of the common pre-workout benefits with energy, focus, pumps, and performance.
Viterna's Ignite Series Gladiator Blood is now available for purchase from all of its usual stockists, with some of those partners shipping across Europe. Despite still being a young brand, Viterna has released its pre-workout in several flavors with Imperial Apple, Gladius Watermelon, Legion Passionfruit, Trojan Berry, and Victory Mango Strawberry.