Glaxon also tweaks Alpha 365 this week now featuring PrimaVie and Lipidox
Nov 11th, 2020
The testosterone booster Alpha 365 is the second supplement Glaxon has reformulated and revamped this week, alongside its original and unique recovery formula Flight. The first version of the product featured quite a variety of ingredients to boost testosterone, increase strength, and improve recovery, which has remained the case for the brand's season two take on Alpha 365.
Glaxon's updated testosterone booster has carried over a lot of the main ingredients from its predecessor with some slight changes in dosages, a few things removed, and some added features. The brand has dropped green tea extract, originally in there for antioxidant support, grape seed for its anti-estrogen benefits, and n-acetyl-l-cysteine.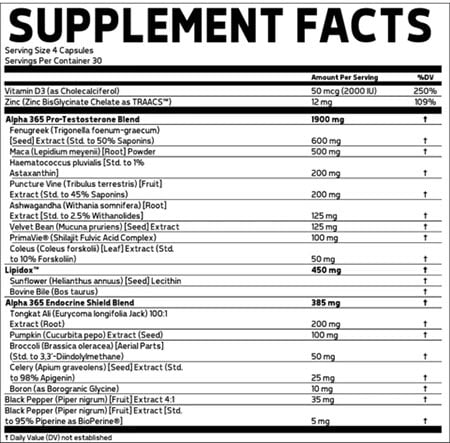 The ingredients added to Glaxon's Alpha 365 include velvet bean at 125mg per four capsule serving, premium PrimaVie branded shilajit, and the Lipidox blend to enhance absorption, which is in Glaxon's Multi and the new version of Flight. The overall goal of Alpha 365 V2 is still the same as the original, aiming to naturally boost testosterone to improve muscle strength and size.
The brand has kept its regular direct-to-consumer price of Alpha 365 the same as the previous one at $59.99, and with the same amount of servings per bottle at 30 to supply you for a full month. You can order the testosterone boosting and muscle building supplement starting this week over at glaxon.com, where it is currently discounted a bit by 5% to $54.99.