Ghost rolling out its updated energy drink alongside an all-new authentic flavor
Jan 14th, 2021
As promised, Ghost is now rolling out the improved version of its energy and focus enhancing beverage Ghost Energy, after revealing its handful of changes at the end of last year. All of the tweaks the brand has made are for the better, including Carnipure carnitine tartrate in place of acetyl-l-carnitine, no more vitamin b1, and more bioavailable forms of b6 and b12.
The revamped Ghost Energy still comes with all of its other main ingredients, including 150mg of alpha-GPC, 100mg of premium Neurofactor, and a solid 200mg of natural caffeine. The updates are expected to improve the flavor of the beverage, which should be quite interesting based on how much we enjoyed some of the flavors' first versions.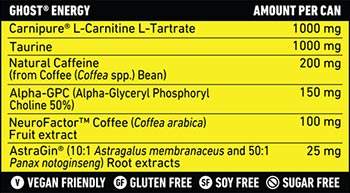 On another note, the new formula is not the only bit of excitement around Ghost Energy to start the New Year. The original lifestyle supplement company is rolling out the update alongside an all-new flavor, similar to one of its original four. That product is another authentic Sour Patch Kids candy flavor with a Sour Patch Kids Blue Raspberry Ghost Energy.
Once again, you can expect to see the refreshed Ghost Energy and its fifth flavor in stores and stockists soon, if not already, at the likes of GNC, The Vitamin Shoppe, and Circle K in Arizona.