The Authentic Bar is Jacked Factory's nut butter, honey, and whey-based protein snack, similar in shape, build, and ingredients to the original real food hit, the Outright Protein Bar. It comes with a reasonable 14 to 16g of protein per bar, depending on the flavor, with somewhat high carbohydrates and calories like Outright, ranging between 21 to 27g carbs and 240 to 280 calories.
The biggest difference with Jacked Factory's Authentic Bar compared to Outright or any other nut butter-based bar on the market is it comes in some genuinely different and mouthwatering flavors. There is Coconut Cashew, Mint Chocolate Chip, Chocolate Chip Cookie Dough, Peanut Butter Candy, and Kitchen Sink, all featuring delicious bits and pieces such as Kitchen Sink's caramel and pretzels.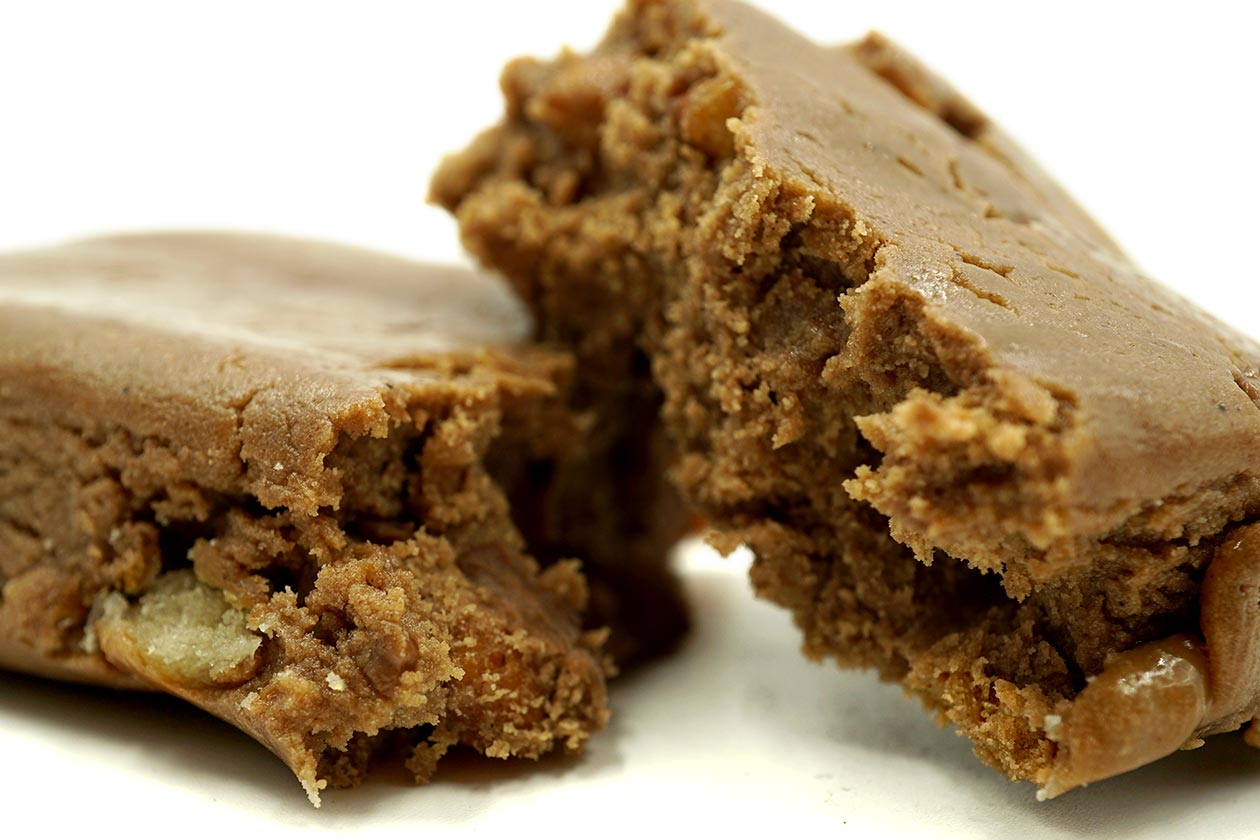 Review
As soon as you rip open an Authentic Bar, it does look like an Outright Protein Bar, aside from those added bits we mentioned. Once you bite into it, however, it is an impressively different experience. Firstly, the texture of the product is slightly better, with a consistency that seamlessly breaks apart if you pull it and melts in your mouth as soon as you throw it in and start chewing.
Jacked Factory's protein snack is the softest and smoothest protein bar we've experienced, being closer to peanut butter than some of the traditional dense and chewy products on the market. While the texture already makes the Authentic Bar worth every dollar it costs, if not more, the taste takes it that step further and compliments the consistency with flavors you can't help but finish.
We grabbed the Peanut Candy and Kitchen Sink Authentic Bars for our review, and they are both amazing. The Peanut Candy is a rich, peanut butter dream, with the peanut chips scattered throughout giving you sweet buttery hits when you cross them. There are also colored candies in the product that throw some chocolate in the mix, although it is still a heavy peanut butter flavor.
The Kitchen Sink Authentic Bar is just as good, pairing that melt-in-your-mouth texture with a hint of chocolate, salty and strong caramel, and crunchy pretzels. It is the caramel that dominates Kitchen Sink and, combined with everything else it has going on, it really takes you away from that nut butter taste which is something we found a lot of the Outright Protein Bars have trouble with.
Summary
Of all the nut butter, real-food protein bars out there, Jacked Factory's Authentic Bar is incredibly tough to beat. It is lower in protein and higher in calories than your typical bar, but trust us when we say it is worth it. The taste and texture are unforgettable and make the protein bar a must-try for fans of functional foods and protein snacks, especially if you enjoy the nut butter style.