Canadian brand Ballistic Labs, which started the year strong with a bunch of all-new supplements, is back again this month with news of a new version of its fat-burning product, Ammo, called Ammo Burn. This will be the brand's fifth entirely new launch for the year, following on from its protein powders Brotein and Iso-Lit, Berberine Sypercyclo, and the entertaining pre-workout Dry Scoop.
Ammo Burn is similar to Ballistic Labs original Ammo, featuring a strong blend of ingredients to support a variety of weight loss-centered benefits. The supplement comes with a total of nine well-dosed ingredients to enhance metabolism, increase thermogenesis, help control and reduce appetite and cravings, and finally, provide a nice boost in energy with a strong 400mg of caffeine in a two-capsule serving.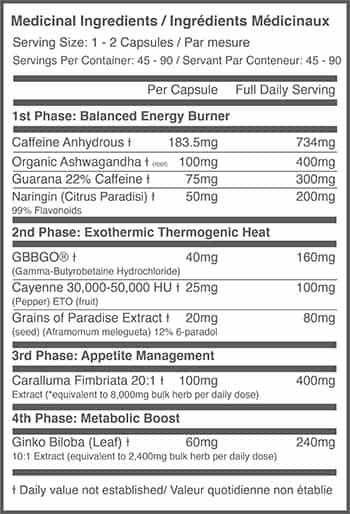 The caffeine in Ballistic Labs' Ammo Burn is from caffeine anhydrous and guarana, and as mentioned, there is a combined 400mg of caffeine in a full serving, which the brand directs users to take up to twice a day. Other key ingredients in the fat burner's daily serving are 400mg each of caralluma and ashwagandha, naringin, ginkgo, 80mg of grains of paradise, 100mg of cayenne, and GBBGo branded GBB.
Ballistic Labs officially launched its all-new Ammo Burn early this month, so fans might already be seeing it on shelves in the brand's many retail partners across Canada. The weight loss product comes in a 90 capsule bottle, which will last you as little as 45 days taking one serving twice a day, or half that at 22 days when using the maximum amount of two capsules twice a day.