European brand Just Egg, obviously known for its egg-based protein supplements, has introduced a new product this week, and it's not a protein powder of any kind. Adrenaline is the brand's latest item on the market, and it is a stimulant-powered pre-workout featuring ingredients to support energy, pumps, and performance with low to moderate dosages.
Some of the stronger features Just Egg has included in the formula behind its pre-workout Adrenaline are beta-alanine at 2.5g per serving, 3g of creatine malate, and 250mg of caffeine. You then have a few less impressive ingredients in the supplement like glycerol at half a gram and 3g of citrulline malate, and there is a hefty dose of theanine at 500mg.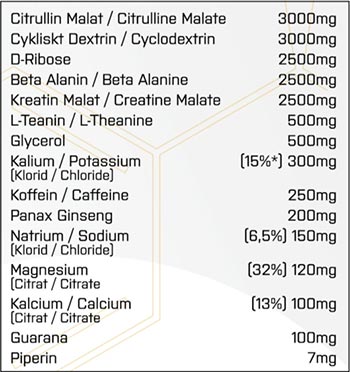 Just Egg's Adrenaline is definitely on the more mainstream, beginner side of pre-workouts, not featuring anywhere enough to top the well-rounded performance of the stronger, more complete products out there. You can grab the supplement starting this month from the brand's retailers and website, and it is quite expensive for what it has at 329 kr (38.00 USD).