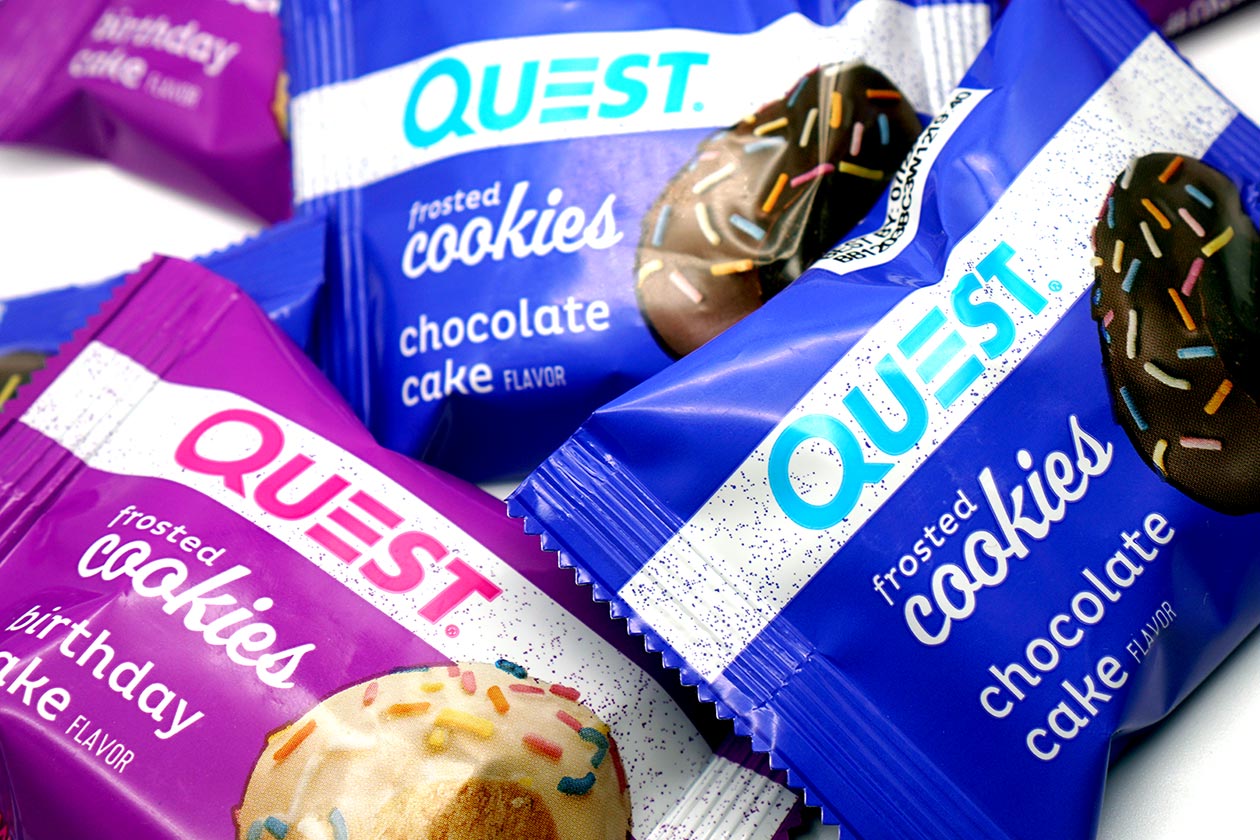 Frosted Protein Cookies is the latest snack creation from Quest Nutrition, with a frosted high-protein cookie covered in rainbow sprinkles and packing 5g of protein a cookie, a gram of net carbohydrates, almost zero sugar, and 90 calories. Based on its look, we suspected it to be similar to Optimum Nutrition's Cake Bites with slightly less protein, although, as it turns out, that is definitely not the case.
Review
Quest Nutrition's Frosted Protein Cookies is what we hoped Optimum Nutrition's Cake Bites to be, with a two-bite-sized cookie that actually has a crumbly, cookie-like consistency. The product impressively breaks down in your mouth, in the same way a cookie does, with a little bit more doughiness; however, it is still closer to a cookie than that familiar chewiness of a protein bar.
The consistency of Quest Nutrition's Frosted Protein Cookies is clearly on point, making it one of the few products we're happy to say has a cookie-like texture as opposed to a circular chewy protein bar. As good as that is, you also have the outside of the protein snack, and that is where most of its flavor comes from that then combines with the smooth crumbly body for an addictively enjoyable experience.
There are two flavors of the Frosted Protein Cookies in Birthday Cake and Chocolate Cake, and neither of them disappoints. The Birthday Cake has a cake batter tasting center with sugary sweetness around the outside, giving you a convincing birthday cake experience. Chocolate Cake is for the chocolate lovers out there with a rich brownie body and sweet artificial style milk chocolate on the outside.
Summary
Similar to Quest Nutrition's Candy Bar, the Frosted Protein Cookies really surprised us. The brand has been doing an incredible job at coming out with flavor-first products that are high in protein and very different from its original Quest Bar. Frosted Protein Cookies is another one of those alternative non-traditional snacks that tastes like a sugary treat but has under a gram of sugar and 5g of protein.