Reputable brand Morphogen Nutrition recently revealed and released revamped versions of two of its long-running supplements in the pre-workout Alphagen and the stress support formula Morphocalm. As expected, those are not the only two products the brand has decided to update the formulas of and rebrand, as today we have details on the upcoming revamp of its testosterone booster Morphotest.
Morphogen Nutrition's reworked Morphotest is still designed to boost testosterone naturally, and it has carried over many of the original's main ingredients with a couple of changes here and there. Some of the components fans will recognize from the previous Morphotest are 750mg of spilanthes, although it's not SA3X branded anymore, the same 500mg of fenugreek, but standard fenugreek, not TestoSurge, 300mg of longjack, and 10mg of boron.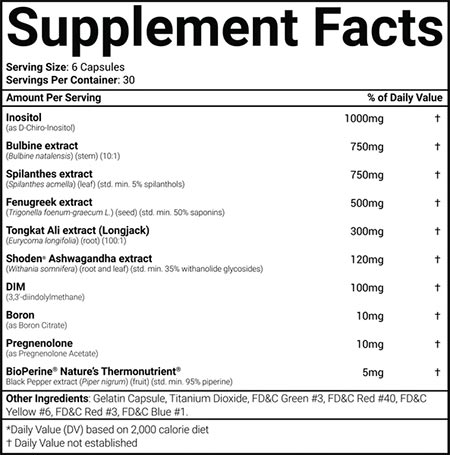 You can see the complete facts panel for Morphogen Nutrition's 2022 edition of Morphotest in the image above, with many other ingredients alongside those two mentioned. The brand has removed stinging nettle from the testosterone booster; however, it's added in a few new features, including 750mg of bulbine, 10mg of pregnenolone, and to enhance absorption of the supplement, BioPerine black pepper at 5mg.
Morphogen Nutrition has essentially carried over all of the key ingredients from its first Morphotest, added in a few new ones, and really stepped things up as we've come to expect from its revamped products. The updated Morphotest is still designed to help boost testosterone, support healthy hormone balance, and improve sexual health; it's now looking to achieve all of that more effectively with more key ingredients.
Morphogen Nutrition's Morphotest is currently out of stock on its website, although with details on the refreshed version now out there, we can't imagine it's too far away, especially after seeing how quickly the new Alphagen and Morphocalm went from reveal to a full public release.