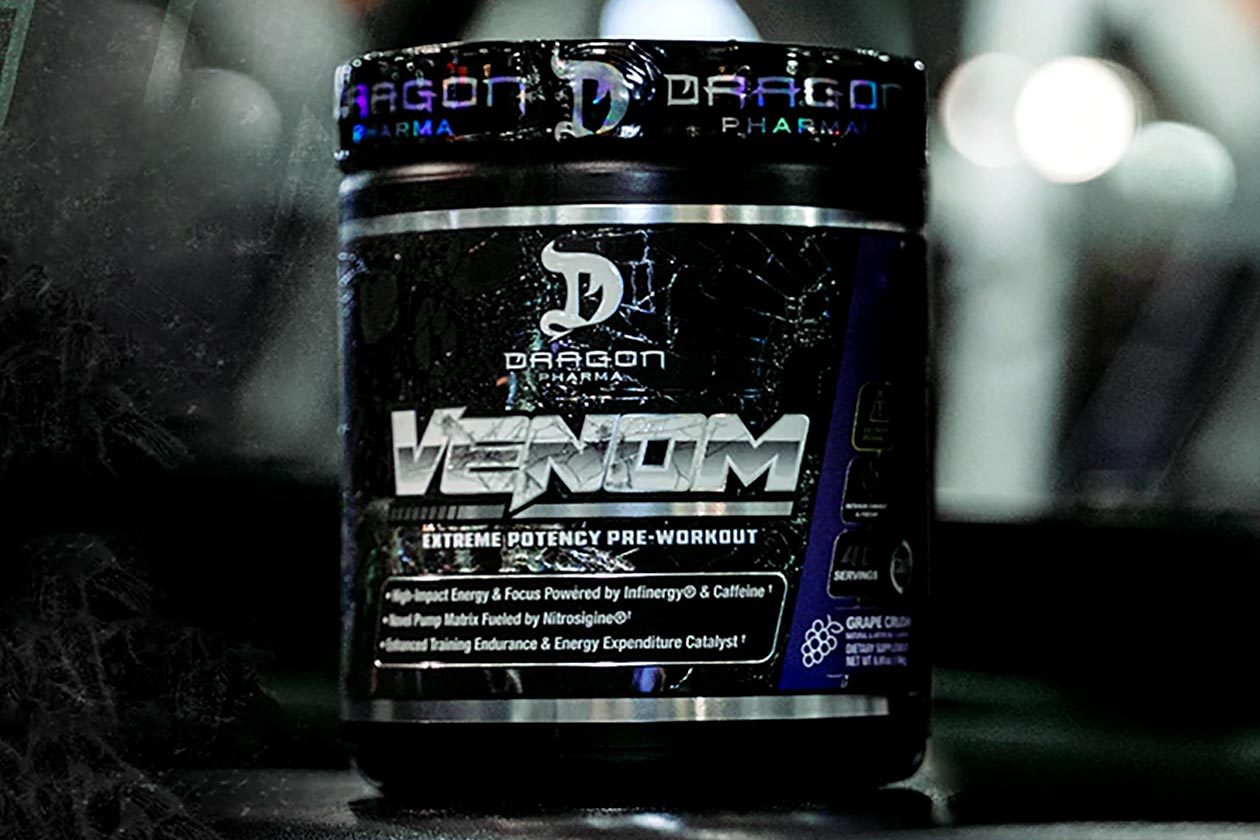 When Dragon Pharma recently confirmed a new Grape Crush flavor for its stackable pre-workouts Venom and Mr. Veinz, we weren't sure if it was coming with a new formula. The brand made mention of "Venom V5" but it was difficult to tell if we were getting a reformulated version of Venom or even Mr. Veinz, for that matter, as Dragon Pharma wasn't hyping changes as much as the flavor.
Last week Dragon Pharma rolled out its new Grape Crush flavor of Venom and Mr. Veinz, and now we can confirm several changes have been made to both of the supplements. The pre-workouts are still designed to support all of the same benefits as their predecessors, with Venom built for energy, focus, pumps, and performance, and Mr. Veinz better pumps and focus without any stimulants.
Venom 2022 Edition
Starting with Dragon Pharma's refreshed Venom (label below), it no longer features the S7 blend, CaloriBurn grains of paradise, or the premium stimulant Dynamine. The brand has carried over many of the other ingredients, including a full 3.2g of beta-alanine for performance, half the Nitrosigine at 750mg, the same 425mg blend of caffeine, 4mg of yohimbine, and an added 2g of betaine.
Mr. Veinz 2022 Edition
As for Dragon Pharma's new Mr. Veinz (label below), like Venom, that has also dropped the S7 blend, as well as removed its NooGandha branded ashwagandha and cognition-supporting alpinia galanga. The rest of the formula is more familiar with some maintained and tweaked dosages such as 1.5g of Nitrosigine, 25% less glycerol at 1.5g, three times the tyrosine at 1.5g, and an additional 3g of betaine.
Dragon Pharma has clearly made many changes to its Venom and Mr. Veinz pre-workouts, mostly removing premium ingredients like S7, Dynamine, and NooGandha. As mentioned earlier, they have kept their original focus, the effects are now just backed by a similarly balanced but different set of ingredients for those same core pre-workout effects, and they can still be used together.
Where to buy
Dragon Pharma's new versions of its Venom and Mr. Veinz pre-workouts can be purchased straight from its online store for the same price as their predecessors at $49.99 for tubs of 20 maximum servings. The updated supplements are available in the same three flavors with the all-new Grape Crush and then the much more traditional options, Fruit Punch and Watermelon.