Gym Molly has released the second-ever flavor for its higher-dosed, more advanced stimulant pre-workout Gym Molly Pro, although it's a bit more than another option. The brand came out with the supplement last year in the one Blue Raspberry Lemonade flavor, which has just been joined by another common flavor in the two-part taste, Strawberry Kiwi.
Gym Molly has also moved Gym Molly Pro to full transparency in its new flavor, as previously, only a handful of its ingredients were listed with exact dosages. You can see the revamped facts panel in the image below, with everything appearing to be similar or the same as the original proprietary blend, as the now transparent ingredients are listed in an identical order, and their dosages combine for the same total.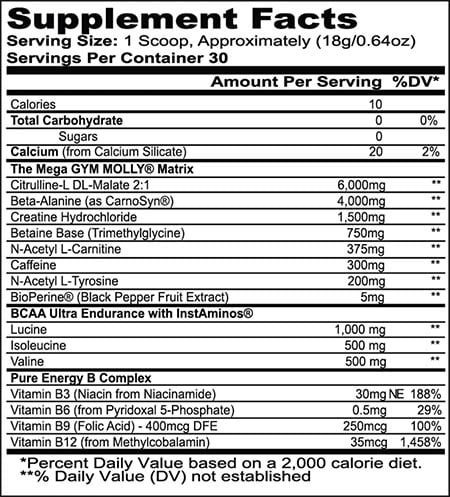 Some of the standout ingredients in the more transparent Gym Molly Pro include 1.5g of creatine HCl, a solid 6g of citrulline malate to power pumps, 4g of premium CarnoSyn beta-alanine for performance, and 375mg of caffeine for energy. You can grab the pre-workout from Gym Molly's website at a little more than what Gym Molly Pro originally came to market for at $39.99 for a tub of 30 maximum servings.