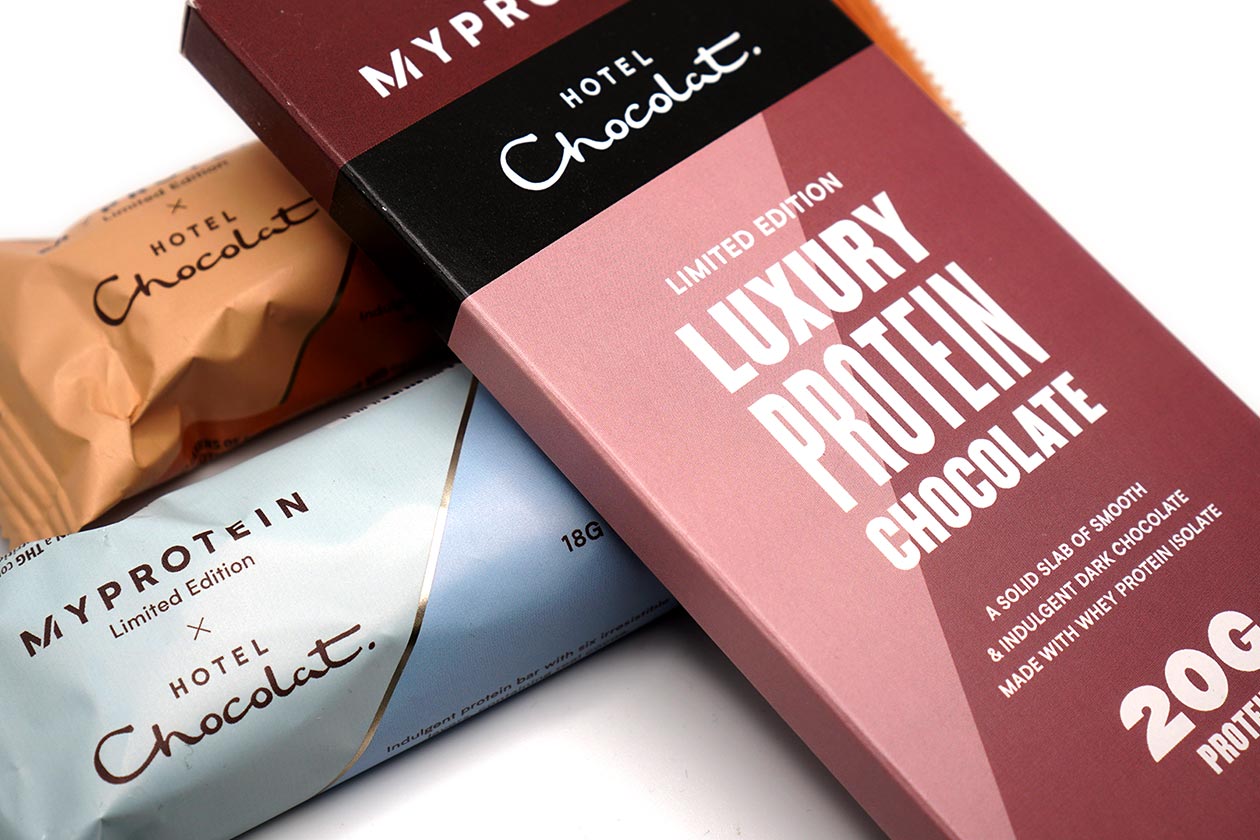 At the end of last year, Myprotein teamed up with the premier chocolatier Hotel Chocolat for a handful of special edition protein snacks. There was the block of protein chocolate, Luxury Protein Chocolate, and two flavors of the brand's Layered Protein Bar Chocolate Orange and Chocolate & Salted Caramel. They were all put together in partnership with the reputable Hotel Chocolat and made with premium dark couverture chocolate.
We recently made an effort to get our hands on the Myprotein and Hotel Chocolat collaborations as we were told they are your more flavor-first type functional products, where you may not get the leanest macros out there, but you'll get a great tasting experience. We purchased the Luxury Protein Chocolate, and Chocolate Orange and Chocolate & Salted Caramel Layered Protein Bars, and are impressed beyond what we expected.
Review
We've always been big fans of flavor-first style protein snacks, as we generally don't mind trading a handful of extra calories so a bar, cookie, chips, or shake can taste amazing. We'll go over our experience with Myprotein's Hotel Chocolat Layered Protein Bars to start. Firstly, compared to a regular flavor of the product, you get 2g less protein at 18 per bar and 20 more calories; however, it makes for a completely different product.
The build of the Myprotein and Hotel Chocolat's Layered Protein Bars doesn't look like anything new, but the second you bite into them, you immediately notice a difference. Both flavors have a crumbly base, then a doughy center, a gooey layer up top, and covered in chocolate chips and rich chocolate. Despite the complexity of those layers, your teeth sink through all of them, and it takes little effort to chew and get down.
Like the on-point consistency of the Hotel Chocolat Layered Protein Bars, the flavors are also there in every way possible. The thicker parts of the bar add a nice brownie or cake-like texture to the experience, although above all, the chocolate taste is incomparably rich, decadent, and unlike anything we've had in a protein bar. The caramel is rather mild in the Chocolate & Salted Caramel flavor and not all that salty, the Chocolate Orange is the other way around with the citrusy orange twist popping a whole lot more.
As for Luxury Protein Chocolate, this is incredibly close to actual dark chocolate; however, that's not surprising considering the macros. The product has more protein than regular dark chocolate per gram and lower carbohydrates, but the fat is high, giving you a solid 418 calories per block. The upside is, as mentioned, it tastes like a block of chocolate should, with the only difference being the chocolate base isn't as sweet.
Summary
We've tried many Myprotein functional foods and protein snacks over the years, and none have delivered as well as the Hotel Chocolat collection. Once again, Luxury Protein Chocolate is as good as you'd hope with its nutrition; the Layered Protein Bars, though, are above impressive. The brand combines great texture and a rich chocolaty flavor we've never seen in protein snacks, all with plenty of protein and reasonable calories.