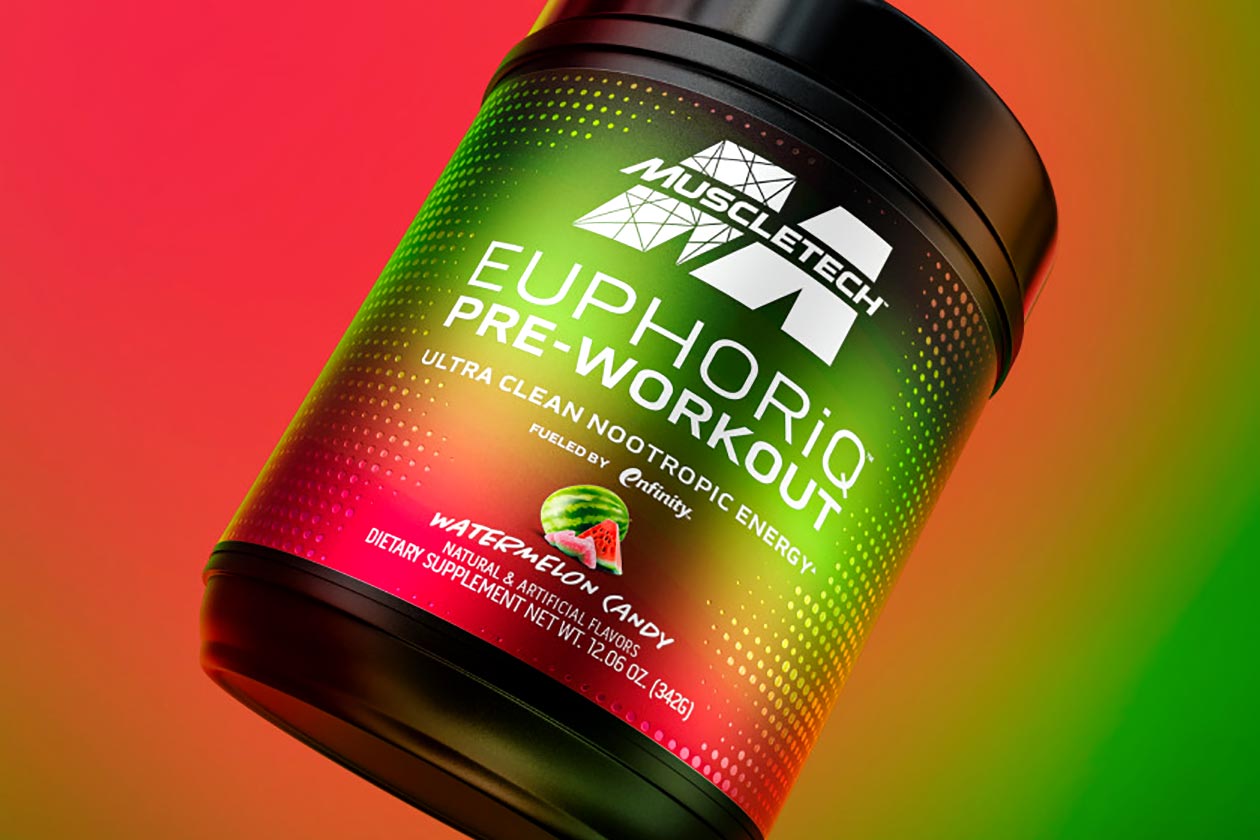 EurophoriQ is one of the first two supplements to feature premium Enfinity paraxanthine, a caffeine evolution exclusive to the legacy sports nutrition brand Muscletech. It is rolling out in the second half of next month alongside the fat burner Burn iQ, also featuring Enfinity, but as previously confirmed, Enfinity is not all that's in each of the products.
Below we've got the fully transparent facts panel for Muscletech's EuphoriQ, where the patent-pending Enfinity is paired with several other premium ingredients as well as some more common, reliable components. While the clean energy and focus benefits of the caffeine metabolite paraxanthine are the main focus of the pre-workout, overall, it is a comprehensive formula with ingredients also for pumps and performance.
Muscletech has included 4g of pure citrulline in EuphoriQ to support muscle pumps, 2.5g of betaine, a gram of taurine, and a full 3.2g of beta-alanine to improve performance. The rest of the pre-workout formula is there to further drive the energy and focus alongside Enfinity paraxanthine with half a gram of tyrosine, 1.6g of the popular gaming ingredient NooLVL, Neurofactor, huperzine, and 300mg of AlphaSize.
As mentioned, Muscletech's EuphoriQ is a well-rounded supplement built to support all of the core pre-workout benefits, although it does have a bit more for the sensory effects of energy and focus than pumps and performance. The Enfinity paraxanthine is still the main attraction in the product and it is in there in place of traditional caffeine at 300mg per serving.
Once again, Muscletech is releasing EuphoriQ alongside Burn iQ in the second half of next month with 20 full servings per tub and three flavors to choose from in Yuzu Lemonade, Watermelon Candy, and Icy Snow Cone. We'll definitely be ordering a tub to see what Enfinity paraxanthine is all about, and the ingredient is indeed exclusive to Muscletech, so you won't be able to experience it in any other products from any other brand.