MyoFactor is the latest sports nutrition supplement from the popular European brand Scitec Nutrition, bringing together a variety of muscle recovery and muscle-building ingredients intended to be taken twice a day. The star feature of the product is tried and true creatine monohydrate, which the brand has included at 3.4g a serving, providing 3g of actual creatine, and it's from premium CreaPure.
In combination with CreaPure, Scitec Nutrition's MyoFactor has several other ingredients to support strength, size, power, and performance, making it somewhat of a daily creatine-based muscle builder. Also packed into each serving is 2g of the leucine metabolite HMB, with 3g of leucine in there too, zinc, vitamin D, the aminos arginine, ornithine, and lysine, half a gram of inositol, and 113mg of coleus forskohlii.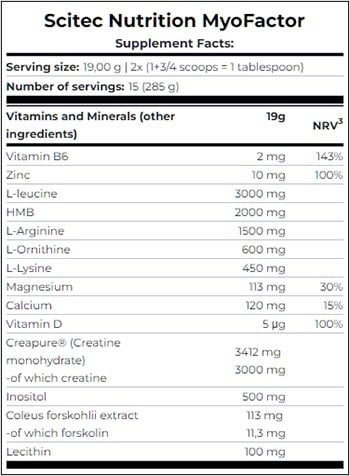 As mentioned, MyoFactor is a muscle-building supplement designed to be taken daily to support those benefits mentioned earlier in recovery, strength, power, and performance. Scitec Nutrition does suggest splitting up your daily dose into two servings spread across the day, although you should be fine just taking them together.
Scitec Nutrition's MyoFactor is out and available now in the UK and Europe, although it doesn't come with all that many servings. If you want that total of 3g of CreaPure creatine a day, you'll only get 15 servings in a full-size tub, so to get you through a typical month, it'd be best to grab MyoFactor in pairs. The price through the brand's website is €27.95 (27.96 USD) in Peach Ice Tea and Pineapple Coconut flavors.