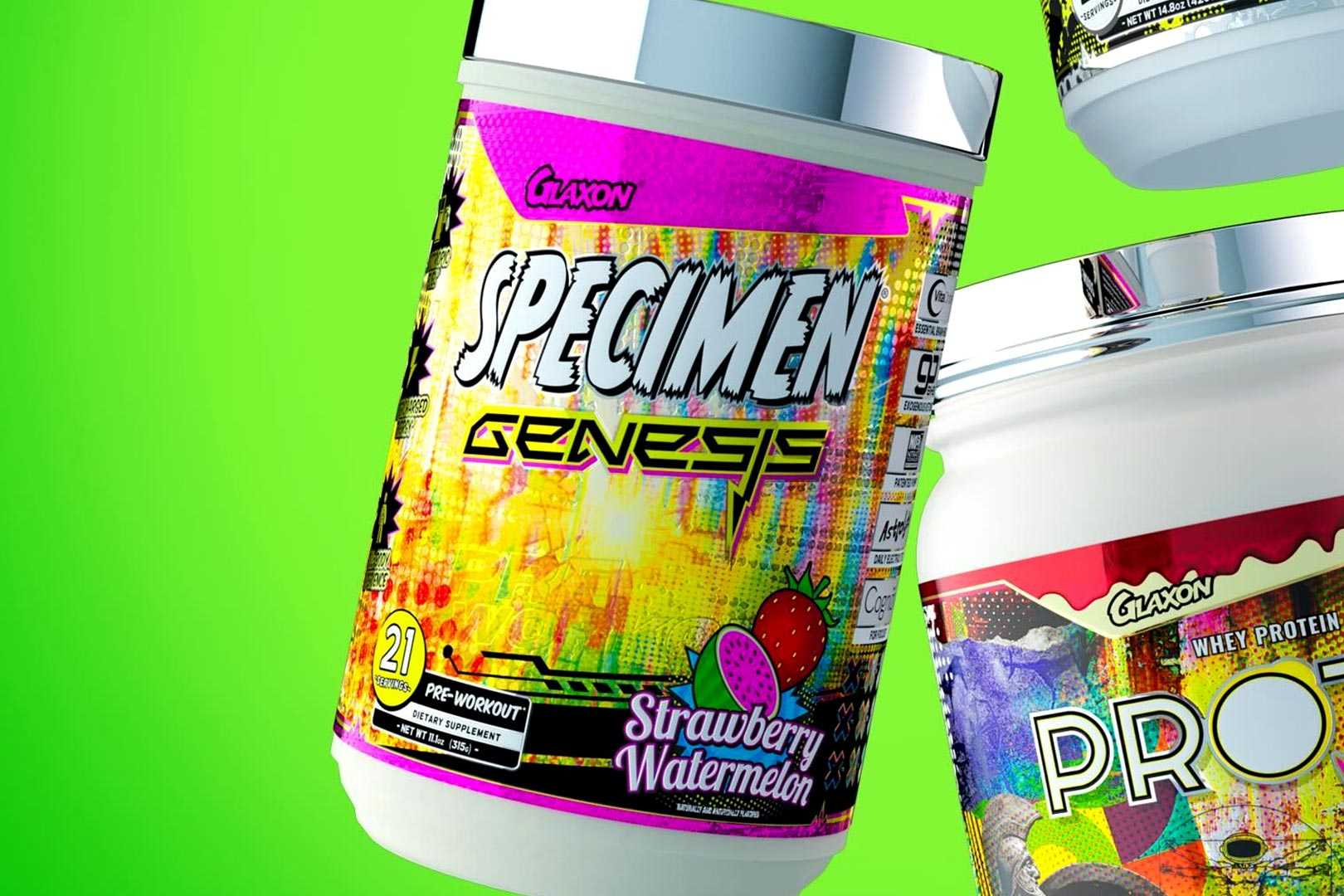 Glaxon recently revealed details about another entry into its extensive family of Specimen-named, stimulant-backed pre-workouts, which has included the likes of Specimen Yoyo, Specimen Max, and the latest is Specimen Genesis. That supplement is due to become available tomorrow, right in line with St. Patrick's Day, and as previously confirmed, it is a blend of sorts of a Specimen pre-workout and the ketone fuel Hybrid.
The facts panel behind Specimen Genesis has been shared ahead of its imminent launch, and it is, exactly as described, a unique and intriguing combination of Specimen and Hybrid. The formula very openly reflects that approach, as it includes many of the key ingredients found in the regular version of Specimen, a few components from other Specimens, and like Hybrid, it has a fair amount of goBHB ketones for fuel and performance.
We've got the full facts panel below, where you can see many of those Specimen ingredients and dosages, including 3.2g of beta-alanine, 1.25g of betaine, 2g of premium NO3-T betaine nitrate, 1.1g of Glaxon's signature Astrolyte blend, and 300mg of caffeine for energy. The other features are velvet bean, English Ivy, and VitaCholine, seen in Specimen Max, and lastly, 100mg of proven Cognizin to enhance focus and cognition even further.
Glaxon follows through on its word of Specimen Genesis being a blend of a Specimen pre-workout and Hybrid's ketones, giving you exactly that; a combination of ingredients and dosages seen in various versions of Specimen and goBHB from Hybrid, although you don't get Hybrid's 5g. It'll have that signature pre-workout hit of energy and focus, with components to fuel a great performance and NO3-T to drive home great muscle pumps.
As mentioned, Glaxon is making Specimen Genesis available through its online store at glaxon.com tomorrow, and while we don't know its price, we can't imagine it being anything more or less than other Specimen pre-workouts. The regular Specimen is $49.99 a tub, while Specimen Max bumps that up a bit to $54.99, and that's right where we suspect Specimen Genesis to land, around $50 for a tub of 21 maximum servings.