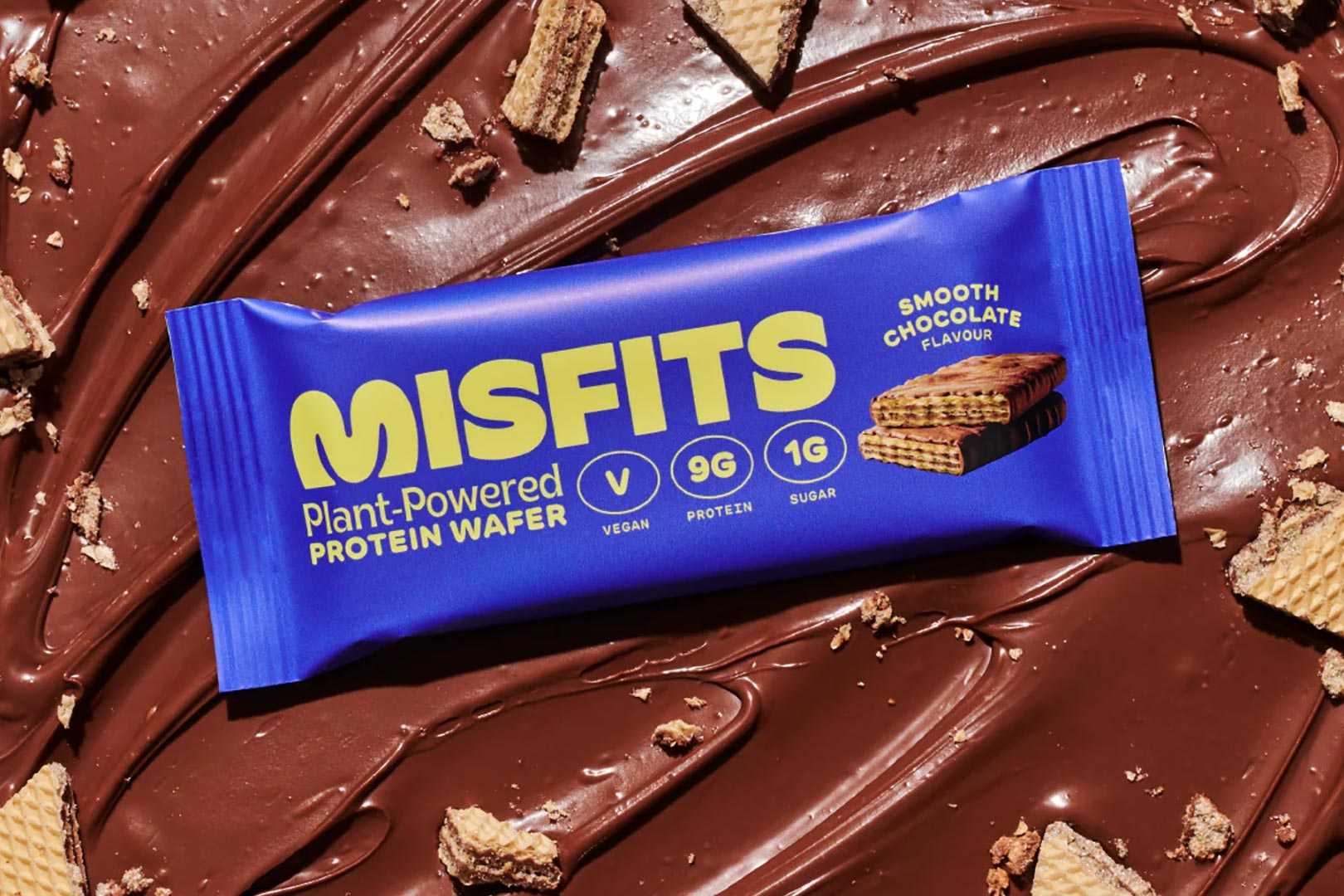 The UK's plant-based protein snack brand Misfits made quite the move in 2022, stepping outside of its comfort zone and into a functional format that isn't the traditional bar, which is what it built its name on. To go alongside its original plant-powered protein bar — packing around 16g of protein and available in a wide range of flavors — the brand introduced a puff-style cereal that kept with the plant-based, high-protein theme.
Here in 2023, almost a year on from the debut of the plant-powered cereal, Misfit has another product innovation to share with its fans, and it does, of course, keep within those lines of being made exclusively with plant ingredients, and it has a moderate amount of protein. The latest functional food from the brand sees it back in the world of protein bars, although this time, it's switched up the build, with the Misfits Protein Wafer.
Misfits Protein Wafer brings together multiple layers of crispy wafer and some sweet, creamy filling in between for additional flavor and texture; then, it's all wrapped in rich milk chocolate or sweet white chocolate. The flavors you have to choose from are the milk chocolate covered Chocolate Caramel and Smooth Chocolate, then the third and only one coated in white chocolate is White Chocolate Vanilla.
The macros on the Protein Wafer are a bit lower than Misfits' signature protein bar; however, it is worth noting they are different in weight, with the wafer snack tipping scales about 18% lighter at 37g a piece. The full nutrition profile on the Chocolate Caramel flavor starts with 9g of plant protein, a fair drop from Misfit Protein Bar's 16g; then you have 13.8g of fat, 7.8g of carbohydrates with under a gram of that sugar, and 194 calories.
The all-new Misfits Protein Wafer is in stock and available for purchase directly from the UK-based brand's online store, and while there is currently a catch to getting your hands on it, we actually prefer to purchase a new functional food this way. The product has launched exclusively in a variety pack where you get four of each of the three flavors at £22 (27.12 USD), as opposed to buying boxes of 12 bars all in the same flavor.