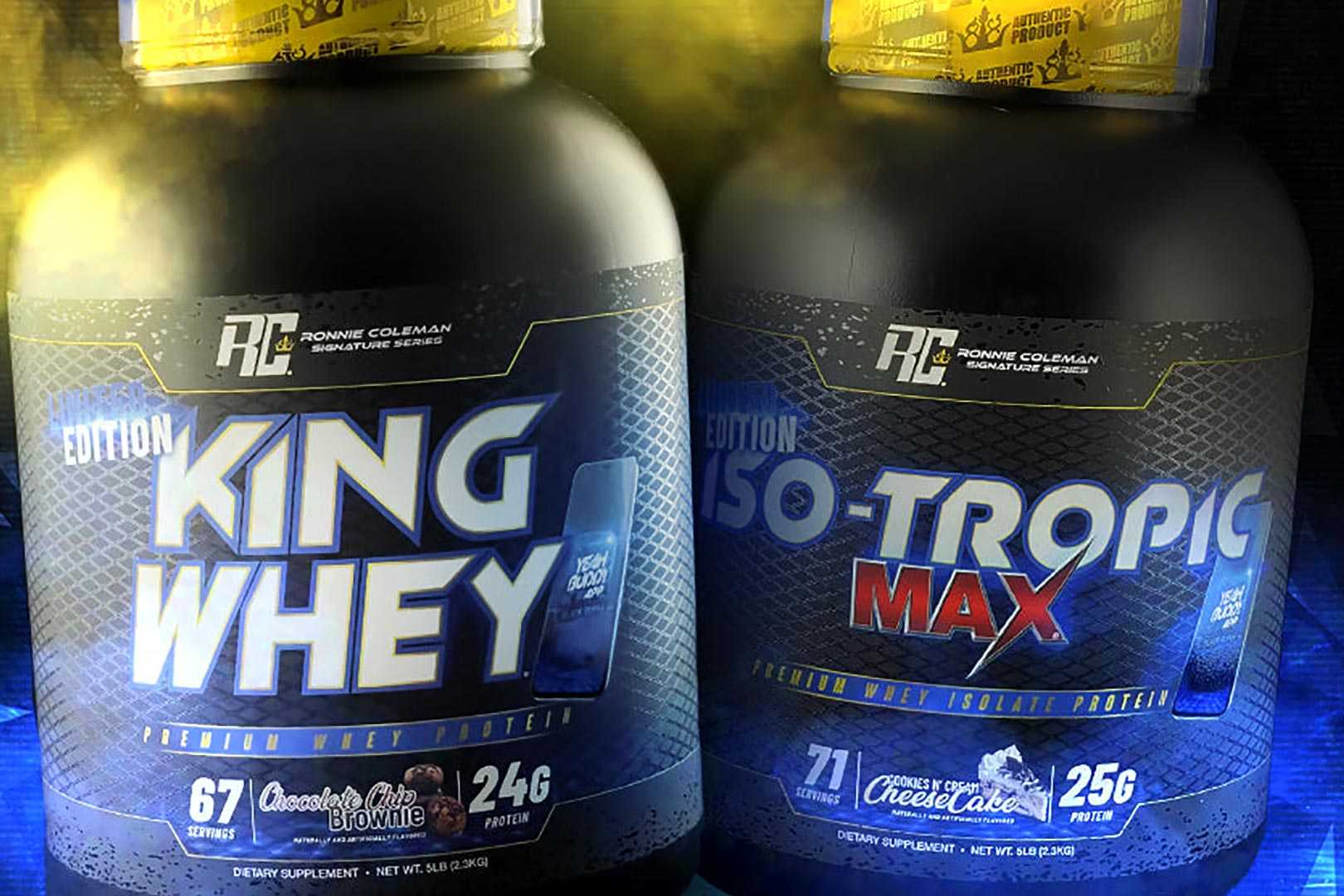 We recently posted about Ronnie Coleman Signature Series' limited-edition, high-calorie spin-off of its mass gainer King Mass XL in King Mass XXL with 50g of protein, 282g of carbohydrates, and 1,440 calories. That supplement was, in fact, a part of a whole limited-time Black Series, as there are two other items in it, and while they are protein-based products like the mass protein, they're not entirely as new or different as King Mass XXL.
Alongside the more calorie-dense version of King Mass XL, Ronnie Coleman Signature Series Black Series has alternative versions of the protein powders King Whey and Iso-Tropic Max, and they are both called King Whey and Iso-Tropic Max. As mentioned, the difference between the original and limited-edition Black Series versions is not as big as King Mass XL versus King Mass XXL; in fact, it's mostly a change in sources.
Looking at the labels of the Black Series King Whey and Iso-Tropic Max protein powders, their nutrition profiles are just as lean as each other, but the sources of their protein are not the same. Where King Whey relies on whey concentrate and isolate for 25g of protein a serving, King Whey Black Series has milk isolate, whey concentrate, whey isolate, and hydrolyzed whey, and Iso-Tropic Max swaps whey isolate providing 25g of protein, for whey isolate and milk isolate.
Similar to King Mass XXL, we're not certain when the Black Series protein powders made their way to market, but it wasn't too long ago and they're well worth mentioning them following last week's introduction of the limited-time mass gainer. As for flavors of King Whey and Iso-Tropic Max Black, both come in delicious Chocolate Brownie, King Whey has an additional Milk Chocolate, and Iso-Tropic Max also has Cookies 'N Cream Cheesecake.